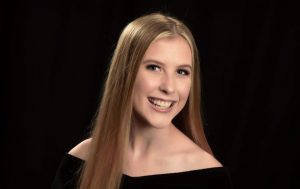 The best word to describe Kiely Hunt might be eclectic.
A senior at the STEM Academy in Lewisville, the Flower Mound teen is the Valedictorian of her graduating class. She leads worship at Cross Timbers Church, and would like to one day become an audiologist.
Hunt, 18, said she has "a passion for helping kids," which is why she also interns at Stepping Stones Therapy for Kids in Flower Mound; assisting with speech and occupational therapy.
She also volunteers at the Lewisville Animal Shelter as, of all things, a photographer.
"I absolutely love dogs," Hunt said. "Making Petfinder profiles so that they can find homes makes my heart so happy."
Hunt has assumed many leadership roles in her young life, including Student Body President this school year, and said that one of the most difficult things she has had to overcome is fear and insecurity.
"I used to be so afraid of stepping out and leading," Hunt said. "But, when I overcame that fear, my life has been so different. I am so grateful for all the people who have helped me and mentored me along the way."
The STEM Academy is a grade 6-12 charter school, which is part of the Responsive Education School system, where students can receive dual college credits, in addition to their high school curriculum.
Consequently, Hunt will not just be receiving her high school diploma this year.
"I have been doing dual credit courses since my sophomore year and will be graduating with an Associates of Arts [degree] in May," Hunt said.
Hunt added that, even though she has served in leadership roles, she does sometimes still feel that it can be difficult to know when to step up– and do so.
"I think one of the biggest struggles of being a young person is finding your voice and an avenue that allows you to have one," Hunt said. "Often times, I think that young people are discouraged from stepping-out as leaders; and, I think it is so important that we do."
Hunt carries a 4.41 grade point average at STEM Academy and is headed to the University of Texas at Austin in the fall to study Communications Sciences & Disorders.
Hunt's Favorites
Favorite subject: All of them
Person who most inspires me: My sisters
Favorite food: Bananas
Favorite movie: Inception
Favorite TV Show: New Girl
Book currently reading: The Road Back to You
Favorite Musical Group or Performer: John Mayer