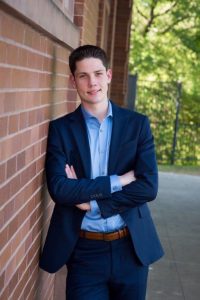 Marcus High School senior Coleton Evans was issued a daunting ultimatum at the beginning of last soccer season—play better or get cut from the team.
The Marauders had just hired current head coach Chad Rakestraw and the players were required to re-tryout for the team.
"Soccer was all I had ever known and it would be a large part of me gone if it was taken away from me," Evans said.
That was when things went from bad to worse.
"After the first two days of tryouts, the coach told me that I would be cut, but I had one day left," Evans said.
It was then that Evans, 18, learned what he was made of after that proverbial gut-check moment.
"That day, I had to learn how to persevere through adversity," Evans said. "I ended up making the team, worked my way to a starter and even got the captain role a year later. This experience taught me to never have contempt, or be arrogant with your position, because you are always capable of more."
A member of the National Honor Society, Spanish National Honor Society and Founder of the Marcus Ping Pong Club, Evans said he would not have it any other way than to be heavily involved in school.
"I like to live my life doing what I love," Evans said. "That often means I am always busy with many activities, but I enjoy all of it and know I won't be able to do all of it forever. That is why I take advantage of what I still can."
The Highland Village teen said the best part about attending Marcus High School is the competitive environment it has presented to him.
"Of course, this is friendly competition, but I was never given anything," Evans said. "I always had to compete for my spot on the soccer team, had to work hard to be where I want in the choir and was always striving and studying harder to get higher in my class. This competition is really what taught me the perseverance that I will need for the rest of my life."
Evans carried a 5.0135 grade point average at MHS and plans to study Vocal Performance on the Pre-Medical track at Texas Christian University in the fall.
Evans said he already knows what he would like to do for a career as well.
"I hope to be a doctor," he said. "I want to be a doctor because the biology of a human body and making sure it is healthy has always interested me. It's also what I have always grown up around, with my dad being a doctor. I just hope one day to be able to help people through medicine and make a steady living with a family."
Evans' Favorites
Favorite Subject: Math
Person Who Most Inspires You: My dad
Favorite Food: Steak
Favorite Movie: Avengers End Game
Favorite TV Show: The Office
Last Book Read: 1984
Favorite Musical Group or Performer: Ed Sheeran