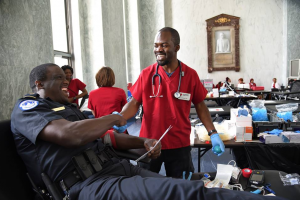 The American Red Cross is seeking blood donors of all blood types to give now to help precent blood shortages this summer.
The organization has launched its Missing Types campaign — where the letters A, B and O are disappearing from brand logos, signs and websites — to raise awareness of the need for more blood donors to help prevent delays in medical care this summer because during the summer, especially around holidays like Independence Day, donations often don't keep pace with patient needs, according to a Red Cross news release.
There will be lots of blood donation opportunities over the next several weeks, including a couple in southern Denton County. Residents can donate on July 8 from 1-7 p.m. at Flower Mound First Baptist Church, 1901 Timber Creek Road. Then on July 13, another donation event will be held from 9 a.m. to 3 p.m. at Trinity Presbyterian Church, 5500 Morriss Road, and the next day, from 11 a.m. to 5 p.m., another one will be held at The Shops at Highland Village.
Click here for more information or call 1-800-RED-CROSS.