The "new" Bartonville Store is in the final stage to open soon at the intersection of Jeter and McMakin Roads– near the exact spot the original store was built in 1882.
Last year, present owner Tim House– who was a childhood customer at the "old" store– was able to form a plan to restore, but re-imagine, a future for his "passion" project. He met nearby neighbor, Michael Scott– an award-winning corporate and executive chef with 40-years of culinary success.
For Scott, the highlight will be Jeter's Meat Shop, "a grass-fed, grain-finish Prime meat butcher shop," featuring Texas-raised Wagyu Beef from the Rosewood Ranches' own herd, where Scott is the Corporate Executive Chef and sales manager.
The Bartonville Store restaurant will also feature the delicacy that is Wagyu, which will be the focus of Jeter's.
"I started working in the restaurant business as a dishwasher when I was 14," said Scott, a native Californian. "I went from washing dishes, to preparing salads and worked my way up to steaks. My big break was at Teppan Taiko Japanese Restaurant training under Master Chef Shoji Yano in Tokyo."
Scott moved to Texas in 1996 and became the Executive Chef at Lakewood Country Club, then the Corporate Chef at Yama Beef in 2004, where he trained other chefs and sold Wagyu Beef, before he was named Executive Chef at the Northwood Club in Dallas.
His introduction to Wagyu sparked Scott's passion to share his knowledge of all-things-Wagyu.
"Wagyu is not like any other beef or meat," states Scott. "Yes, it tastes more 'buttery;' more tender and juicy– that's obvious. But, there's a physical reason … it has a different kind of monounsaturated fat and omega fatty acids– it melts differently under heat. There's a difference that has to do with saturated versus unsaturated fat and how they affect the human body."
To prove his point, Scott points to a study conducted by Dr. Smith of Texas A&M University on men who ate Wagyu beef versus those who ate "regular" beef and their cholesterol levels. The study was reversed with the same men. The result– the former "regular" beef-eaters who were now eating Wagyu actually saw their cholesterol levels drop; incredible.
"Who knew eating this beef could actually be healthy," asked Scott. "Of course, you will taste the difference. And, when you prepare Wagyu, it's best to cook it to rare or medium-rare, before removing it from the heat to 'rest,' before serving. If you're going to cook it well-done … well, just don't."
Jeter's Meat Shop will also offer other high-quality meats– including other beef, such as Angus and pork, chicken, even game meat– from other local ranches. And, they're not the typical Choice-level meat found in grocery stores.
Included in the local area meat suppliers are: Taylor Cattle Company; Battlefield Buffalo LLC; Hardies; Tender Belly; 44 Farms; and Broken Arrow Ranch for wild game meats, like free-range venison, antelope, quail and wild boar.
"I'm really excited to offer not only Prime meats, but we also plan to have cooking classes and wine/beer dinners, as well as offering membership to a Meat Lover's Club," said Scott.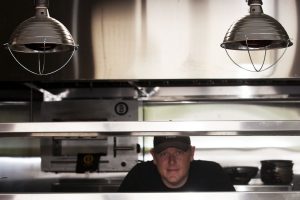 Partnering with Scott in the culinary duties for The Bartonville Store is Chef Walter Bandt, who has returned to DFW will create the menu items and play with the flavors customers taste with each bite and share his love of preparing South American fusion-styled cuisine with a Texas twist.
Born in Dallas, Bandt moved to South America at a very young age, settling in Bolivia as his childhood home. His first mentor in the kitchen was his Aunt Carusa Bandt.
At 18-years-old, he moved to Salamanca, Spain, where he discovered European cuisine.
Four years later, he moved back to America– Providence, Rhode Island– and, at 24, he became a culinary instructor for the University of Johnson and Wells- where teaching became a passion.
In 2008, Bandt attended the University of Inacap in Santiago, Chili, earning his International Culinary Degree, graduating with Honors.
Scott's credentials include CEC (Certified Executive Chef), AAC (American Academy of Chefs) and membership in the World Master Chefs Society.  He has been named Chef of the Year four times in the DFW area; and, once in all of Texas.
In addition to featuring Jeter's Meat Shop and two world-class chefs, The Bartonville Store will house a restaurant with innovative and traditional fresh menu selections, a full bar at the back, a deli with whole meal-replacement carry-outs and a 4 to 6 p.m. Happy Hour with appetizers created daily from whatever Chef Walter is featuring that day … or not.
Like the locally-raised variety of meats available with the Wagyu beef in Jeter's Meat Shop, there will be a wide selection of locally-baked artisan breads and cheeses, plus signature wine and liquor providers.
The ultimate example of "keeping things local," are the "Priceless Cookies" returning to The Bartonville Store.
If that sounds familiar to local-area residents, it's because James C. Price, his parents and wife were the owners of the "original" Bartonville store for 54-years, before they closed it in February 2013.
Mrs. Price was the baker of those cookies and "they're baaaaack!"
Initial produce providers include: Breeden Fresh Farms; Rae Lili Farms; CJFarms; Hardies; My Epicurean Farms; and, Demases Farms.
The local cheese providers will also be familiar names: Brazos Valley Cheese; Velderhuizen Cheese; and, the neighboring Latte Da Dairy.
Wines from: Grapes to Wine; Glazers Wine; Republic Wine; Southern Wine & Spirits; Oak Cliff Beverage; and, Llano Winery.
Even the honey from local beekeepers, Buffalo Clover and Round Rock Honey, provides healthy allergy benefits. The gourmet ice cream from The Sweet House in Rowlett joins other retailers: Texas Petite Pies; Red Chef; La Crème Coffee & Tea.
Completing the five-senses experience– sight, smell, taste, touch and hearing– The Bartonville Store will also offer a treat for the ears.
"We'll feature a variety of live music acts, with some of the best that Texas has to offer," House said. "That will include acts from Austin, as well as the immense assortment of talent found in Denton, including those from the world-renowned jazz program at UNT."
Joining the staff to juggle all the public and private special events is Missy Scott.  As the daughter of Chef Michael Scott, Missy was born into the event industry.
From toddlerhood, Missy watched Chef Michael put his heart and soul into every event and guest who crossed his path.
After years of experience in the field, including with The Grotto and Urban Crust, she added special event sales at IPIC Theaters and regional sales director of Lantana and Bridlewood Golf Clubs under the Dominion Golf Group.
Her corporate management training, insightful creativity and organizational skills support the busy Jeter's Meat Shop team behind-the-scenes in the day-to-day logistics. She also oversees all marketing, public relations and business development projects for the company.
Proving to be a master wrangler of cat round-ups and juggler of anything thrown her way, she's managed to help set the tentative opening for The Bartonville Store as late-June.
Visit: www.thebartonvillestore.com for regular updates and information.