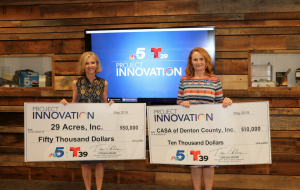 NBC 5 Dallas-Fort Worth, Telemundo 39 and the Comcast NBCUniversal Foundation announced last month that eight North Texas nonprofits — including two from Denton County — will receive a total of $225,000 in "Project Innovation" grants.
The eight winners were selected based on innovation within at least one of four categories, according to a news release: storytelling, community engagement, culture of inclusion and youth education.
"We are proud to see so many unique organizations creating innovative solutions to make a difference in the Dallas-Fort Worth community," said Tom Ehlmann, NBC 5 and Telemundo 39 President and General Manager. "We are fortunate to have the opportunity to increase the impact in the work they are already doing through existing and expanding programs."
The North Texas 2019 Project Innovation grant winners feature local nonprofits that are working
to reducing recidivism among the juvenile justice system, increasing services to underserved populations in the community, create an equal playing field for individuals and future generations of leaders to excel in the areas of STEAM and encouraging diversity in volunteerism that is more representative of the communities served, according to the news release.
29 Acres, which is moving to Cross Roads soon, was awarded $50,000. The organization supports people with autism, and will use the grant money to expand its residential transition program to additional beneficiaries, teaching independent living skills and giving young adults an opportunity to practice those skills while living independently.
Court Appointed Special Advocates of Denton County, a foster children's advocate program for abused and neglected children, was awarded $10,000. The grant will fund its Men of CASA targeted campaign to attract more male volunteers.
Six other nonprofits received Project Innovation grants: Big Thought, Cafe Momentum, After-School All-Stars North Texas, Trinity River Mission, Greater Dallas Youth Orchestra and the Dallas Center for the Performing Arts Foundation.
Click here for more information.