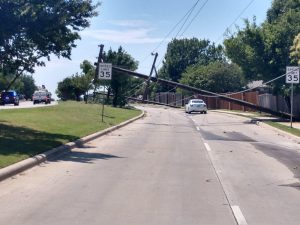 Power has been restored Monday morning to nearly all the remaining local residents who were affected by downed power lines from Sunday's storm.
A severe thunderstorm with high winds on Sunday afternoon blew down trees and power poles, causing scattered electrical outages in southern Denton County. At one point, there were an estimated 14,000 homes and businesses without power in Denton County.
Monday morning, CoServ reported that service has been restored to all but one of the remaining homes and businesses affected by the downed lines in the Flower Mound area.