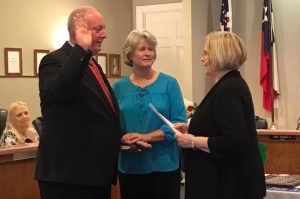 Double Oak Mayor Mike Donnelly announced this week that he is self-imposing a term limit, and this will be his last term as mayor.
On Monday, Donnelly was sworn in for his fourth consecutive and fifth total two-year term as mayor of Double Oak. Afterward, he informed the town that he will finish this term, but won't seek re-election.
"I love serving Double Oak as mayor," Donnelly said. "We've got outstanding people in our community and council … but this will be my fifth term and I think it's the right time."
Donnelly said he is "looking forward to the next two years," and he'll be focused on working with Town Council and staff to maintain the town.
"Things are very good in Double Oak," he said. "I thank the residents for the opportunity to serve."
Donnelly said that after he leaves office, he will continue to be involved in the community.