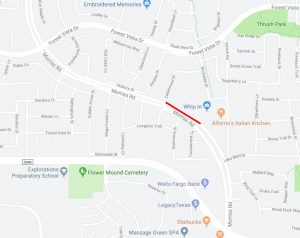 Flower Mound residents who regularly travel on Morriss Road can expect lane reductions for the next year.
Portions of northbound Morriss Road are reduced to one lane to allow for work associated with the 20-inch Water Line Improvements project, according to a news release from the town of Flower Mound.
The lane reductions are between Tournament Lane and Cedarwood Drive, and the project will be completed in sections, keeping one lane open at all times. Each section will remain closed until panel work in the area is complete.
The entire project — including panel replacements, water line replacement and intersection work — is expected to be completed in May 2020, according to the town of Flower Mound.