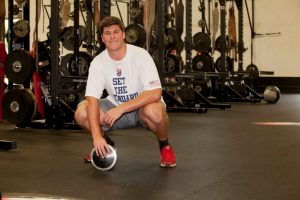 Preston Wilson received 30 offers to play college football, but that was not the sport on his mind this spring.
Wilson won the discus event at the District and Area meets and was hoping to qualify for State as his team headed into the Regional Track and Field meet in late April.
At the Area meet, Wilson topped the second-place opponent by more than 13 feet, and finished second in the shot put (48-02.25) to qualify for Region in the process.
In case you were wondering, high school boys use the 1.6 kilogram discus, which is just over 3.5 pounds. A shot put is 12 pounds.
The Argyle High School senior said that his goal this year is to continue to improve and see where his training takes him.
"A successful season to me would consist of a few things," Wilson said. "I'd like to beat my personal best and hopefully get out of Regionals and make a run to State."
Wilson said his interest in the discus event began five- or six-years-ago when a coach approached him about an offseason [spring] sport.
"I got started in middle school when football season ended and my former strength coach told me I should do it," Wilson said. "So, I did and ended up throwing great for my first time and fell in love with throwing. It's a great way for big guys to participate on the track team."
The 18-year-old is a 6'4″, 280-pound offensive lineman on the Eagles football team and received interest from Kansas, Baylor, Arizona State and Washington State among other schools. But, he selected Oklahoma State University which has proven valuable to his pursuits in the discus.
"My training routine consists of doing my college workout book from OSU," Wilson said. "Then I get treatment to keep my body healthy. Also, I throw every day after school with Coach Morse and Coach Chancelor."
While his parents never competed in track and field, Wilson's younger siblings are following in his footsteps.
"No one in my family has ever done track," Wilson said. "But, since I have gotten involved, my two younger brothers, Sheridan and Carter, have joined track."
He said that one of the great things about the discus event, is that it keeps him in shape during the off-season for football– which will be his collegiate sport but added that, by no means, is it an easy sport to learn.
"The difference between a bad throw and a good throw could all be determined by something that seems so small– like your foot placement or the way you release the discus half a second late," Wilson said.
He added that there are those very special moments, however, where everything just seems to click.
"What I enjoy the most, is when you throw it and, before you can even see it, you just know that it's a great throw," Wilson said
Argyle Track and Field Coach Steve Chancelor said that Wilson has had many great throws during his time at Argyle and said that one of his greatest attributes is his dedication.
"Preston is a worker," Chancelor said. "He takes pride in his craft, be it football or track. He has always looked for ways to get extra reps and practices. Because of his work ethic, he has excelled in his endeavors."
Two of the throwers to beat in the State this year are Andrews High School's Jacob Mechler (177-0.00) and Paxton Hair (161-05.00)– both of whom are in Region I– and who took first and second place, respectively, at the District 2-4A Meet this season.
He added it will be tough-sledding beyond Area, but said that Wilson should not be counted out.
"When you get to Regionals, anything is possible," Chancelor said. "There are some terrific throwers in Region 1, but Preston has put himself in the discussion of State qualifiers."
Wilson has made an indelible mark on the Argyle football and track and field programs, and Chancelor said his wish for him is to always remember what it is that got him to that level.
"I hope he remembers his work ethic," Chancelor said. "Anything is possible through hard work and dedication. There are many gifted athletes, so what separates you is your willingness to grind."