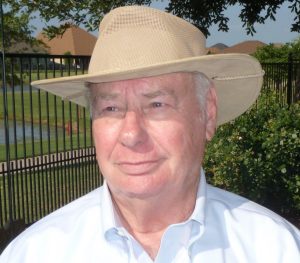 By Don Duff
My time on the Denton City Council will have ended by the time this is published and Jesse Davis will be elected to replace me.
How did I end up on this journey?  It started when Kathleen Wazny called a meeting to create a freeze on Denton City property taxes for over 65 and disabled.  I got involved when I realized no one was obtaining signatures on the petitions.  I figured out how to get the signatures and organized 75 dedicated people.  We obtained 8,600 signatures to place it on the ballot and it passed.  Recently, I was asked just how much I saved on my taxes because of the tax freeze.  The person missed the point of the tax freeze.   The tax freeze was for the senior citizens on fixed income whose property appraisal continued to increase.
I addressed the committee deciding what to do about Denton ethics ordnance.  I told them I hoped they would put the ordnance on the ballot, because if they did not, there would be a petition.  Not sure they paid any attention to me, but the ordnance was put on the ballot and passed.  Little did I know that I would end up on the City Council that would write the ordnance.
Deciding to run for the City Council was a very close decision.  Again, Kathleen prevailed and I ran.
During my two years, Todd Hileman and his staff have cleaned up many disasters, solved many problems, reduced tax rates, repaired many roads, and more positive things than I can enumerate here.
Of all the votes I cast during the two years, one stands out in my mind.  It was brought up twice in resent debates by a candidate running to replace me on the Denton City Council.  It is ironic that the vote did not change or do anything.  The Texas legislature passed SB4 (sanctuary city law) and was signed into law by Governor Abbott.  A west Texas judge overturned the law and it was headed for appeal.  The Denton City Council was voting to join the lawsuit against the State of Texas.  The City chamber was filled with multiple activist groups, University professors, college students and six other Council members.  I was the only one in the room to say NO.   A few weeks later, the United States Fifth Circuit of Appeals agreed with me.
I am gratified to know as I leave the Denton City Council, I will be replaced with someone that will be a much better Council person than I could ever hope to be.
HOA Update
By Larry Varnes, Vice President, Resident Director, Robson Ranch HOA
Well, spring has officially sprung at Robson Ranch.  Everything is green.  The flowers are blooming and suddenly our attitudes are improving.  Amazing what a little vitamin D from the sun can do.
With spring comes lots of activity at Robson Ranch.  We just hosted pickleball players from around the country and Canada for a Mid-South Regional Pickleball tournament. Thirty-five states were represented in this regional tournament with over 700 players. This regional pickleball tournament was the largest pickleball tournament ever held in Texas and the Mid-South region.  As a sanctioned tournament by the USAPA, the governing body of pickleball in the US, the tournament was refereed and umpired by over 125 officials.  There were about 500 matches played each day of the tournament.  Robson Ranch is proud to be building a reputation as being the pickleball capital of North Texas.
But not to be outdone by the pickleballers, our golf course is also getting plenty of use.  Over the past couple of months, we have hosted several high school tournaments.  Some of these players have taken lessons from Robson Ranch golf pros. One of our professional instructors, Dave Bowles, prides himself in getting young players interested and proficient in golf.  His golf school is run out of the Wildhorse Golf Club at Robson Ranch and is open to anyone seeking to begin playing golf.  Dave's philosophy is simple:
"One of the main problems that new or beginner golfers deal with is listening to other golfers give them "tips or advice" about their golf swing.  When a better, more experienced golfer tries to give a novice their "expert advice," they are often telling you what works for them and not necessarily what is good for that player.  "Taking golf advice from a friend, loved one or spouse is like taking financial advice from someone that has filed for bankruptcy on more than one occasion."  What may seem like well-intended advice, can often lead to more frustration and, more often than not, the end of your golfing adventure.  My main goal as a Golf Instructor is to help you find YOUR swing, know your misses, own it, and start playing golf!  Many of us have different ailments or injuries that have caused us to give up the game or in most cases, never want to take it up.  As a teaching professional, I take what you have, use your past experiences along with different analogies to come up with the best way for you to swing the golf club pain free!"
As the golf season is now upon us, there has never been a better time to start and/or continue enjoying playing the sport of a lifetime.  Make Wildhorse Golf Club at Robson Ranch your home club.
The Wildhorse Golf Club was selected to host Dallas Baptist Women's Collegiate Invitational.  Dallas Baptist, the #1 ranked, NCAA Div. 2 team in the nation will be calling Robson Ranch home when they bring their invitational here September 22-24 of this year. The annual championship, which was previously hosted at another high-profile venue, will bring 18 of the nations' top female collegiate teams to Wildhorse Golf Club.  Not a bad credential.