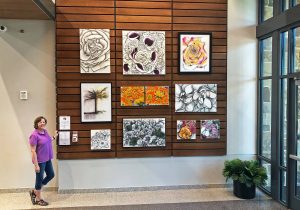 The town of Flower Mound has selected a local artist to be the first one to have her artwork featured in its new Town Hall Art Display.
The town announced Friday that Flower Mound artist Brenda Gribbin will have her artwork displayed at the new Town Hall throughout the month of May. Gribbin's artwork focuses on botanical forms, with a specialty in custom-designed bridal bouquet paintings, according to a news release from the town of Flower Mound.
Gribbin's work will be available for public viewing from 8 a.m. to 5 p.m. Monday through Friday at Flower Mound Town Hall, 2121 Cross Timbers Road. All art featured in the Town Hall Art Display is chosen by the Art Selection Committee, which is comprised of town staff and Cultural Arts Commission members, and will change each month. For more information, click here.