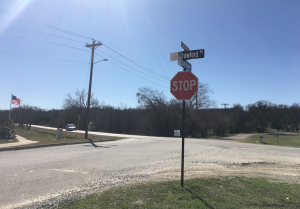 A meeting scheduled for Sunday at Argyle Town Hall about Crawford Road repairs has been canceled.
The meeting was canceled because there isn't much new information to share yet, said Argyle Town Manager Kristi Gilbert. The city of Denton is conducting a traffic analysis to determine the proper roadway width and functionality until the end of May, Gilbert said, and after that, the city of Denton, town of Argyle and Denton County will come together to review the results and determine a course of action. There will be more public meetings to share information about the project after that.
Crawford Road is the oft-maligned two-way street between I-35W and Hwy 377 in the north Argyle area. It has a lot of potholes, crumbling edges and other surface issues, and it's the only way in and out for residents of the Country Lakes and Carnegie Ridge subdivisions. It's a confusing issue for residents because a portion of it is in the town of Argyle, part of it is in the city of Denton and some of it is in unincorporated Denton County.
Earlier this month, the town of Argyle, city of Denton and Denton County signed a memo of understanding, an unenforceable road map of each entity's intentions with the road. The county has agreed to contribute up to $2 million for improvements, the city of Denton agreed to conduct the traffic study and the town of Argyle agreed to assume all responsibility for the maintenance and law enforcement for the entire stretch of the road upon completion of the agreed-upon project. Argyle also agrees to modify its town limits boundary so that all of Crawford Road will be within its town limits, and the city of Denton will modify its city limit so all of John Paine Road will be in its city limits.