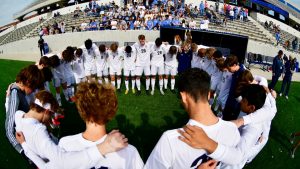 By Clairissa Cooper, Contributing Writer
It's no secret that the Flower Mound High School boys soccer team has a penchant for nail-biters and suspense thrillers that would rival Hollywood scripts.
The Jaguar's 4-1 win via penalty kicks over San Antonio's LEE High School took their fans for yet another emotional roller coaster to culminate in the school's first boys soccer 6A State Championship title on Saturday.
As one dissects the ingredients that made Flower Mound state champions – aside from obvious talent and the ability to flourish under pressure – it may be easy to miss a little something that makes this team special.
Prayer. It's Flower Mound's "je ne sais quoi" on the pitch.
Before every game, you'll find the team in a huddle, arms draped over each other's shoulders, and heads bowed in prayer. Of course, the team is a mixed-bag of belief systems with some religious from varying denominations and some not. Yet prayer has been a common, binding thread that started from a suggestion at the beginning of the season to a well-cemented tradition throughout the playoffs.
Gavin Spencer, a senior forward and member of The Church of Jesus Christ of Latter-day Saints, suggested to the team before their first regular season game in January that the team say a prayer. The game was expected to be a challenge and Spencer thought it would help the team start-off the season on the right foot.
"Everyone has their own beliefs, but there's something about prayer," said Spencer. "No matter how hyped up our coach is or how excited the team is to play, there is something different about a prayer. It's a moment – an intimate thing between a group of friends."
Praying as a team has remained consistent since that first match. Spencer says the tradition has brought them closer as a team.
"We're together and connected in a unified goal," said Spencer. "It doesn't matter what religion we all are. We're all praying in that one moment to do our best, to come together and ask for God to bless us."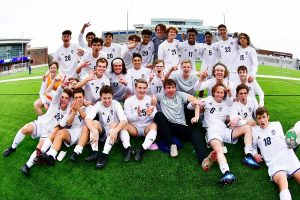 Backup goalkeeper and junior Zach Testa agrees, "Even though all of us on the team may have different beliefs, we still unite as brothers and honor God because he has given us talents and the opportunity to succeed," said Testa, a member of Lamb of God Lutheran Church.
Increased unity amongst the team has been a happy byproduct of prayer. With a large varsity roster that includes 26 seniors, playing time can be constrained for some.
"There is no friction amongst the group," said David Doyle, Flower Mound High School head coach. "They all pull for each other even though they know their playing time is limited. Prayer is something the guys decided to do on their own and I think it is great."
Senior defender Kyle Winter agrees, "Being able to pray before games has been a great bonding experience for everyone on the team. (Prayer) has really brought us all closer as a family and strengthened our appreciation for being able to play the sport we all love."
As the season progressed, the wins kept accumulating. Following district and bi-district championships, Flower Mound won in theatrical fashion against the Duncanville Panthers as senior defender Brock Clayton scored with seven seconds remaining in regulation to make it 4-3. The win secured the team as Area Champions – the furthest the school had ever made it in the playoffs in school history.
For that game, one prayer wasn't enough. After the Duncanville game, captain and senior midfielder Shane Popieluch suggested that the team offer a prayer in gratitude.
"It was a crazy match and we had prayed before the game, but our captain, Shane, said we need to have a prayer of thanks," said Spencer.
Since that point, the Jaguars seemed to possess an edge as the playoff journey propelled them through a series of climactic wins in the Regional Finals and eventually down to penalty kicks in the State Championship.
Senior midfielder Nate Mulkey says prayer provides much-needed focus before games.
"Christian or not, the prayer is something that helps us focus on the game," said Mulkey, a member of RockPointe Church. "Prayers before the game offer an opportunity for us as teammates to bond with one another."
"There has been more laughter, more kindness, more peace, and most importantly, there has been more love," said Cameron Krueger, senior forward and member of Valley Creek Church. "The power of prayer is life-changing and looking at what it has done, we couldn't have been a closer family."
The increased love and kindness has been evident in the team's sportsmanship. Following the dramatic playoff victories, opponents have collapsed to the ground in emotion-filled exhaustion.
"Our team members have gone to them one-on-one to comfort them and lift them up," said Flower Mound parent Carolynn Spencer. "In many cases there have been hugs between boys who were fighting it out just moments before."
Flower Mound (21-3-1) began their state final with heads bowed and finished their championship season Saturday night with arms raised, holding a UIL 6A state trophy.
"I would never have dreamed of coming this far with all of my friends," said Testa. "This is an exciting, once-in-a-lifetime opportunity."