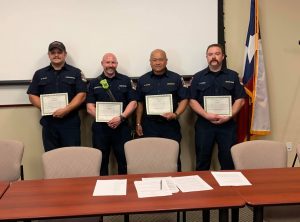 Crew members from the Argyle Fire District were recognized last week for their efforts to save the life of a citizen they found without a pulse.
The Denton County Sheriff's dispatch center received a 911 call on March 30 about someone reportedly going unconscious and falling to the floor in Northlake, and Argyle FD Engine 514 and Medic 511 were called to the scene, according to a news release from the Argyle Fire District.
The Argyle firefighters found a citizen unconscious and without a pulse in a residence, and they initiated immediate life-saving treatments. Under the direction of lead paramedic Zachary Haas, the crew members provided aggressive advanced cardiac life support treatments until the victim regained a pulse at the scene. The patient was then transported to a Denton hospital and is currently healing at home.
"The extraordinary circumstances were handled by the teamwork of both crews and fire dispatch, undeniably resulting in a life saved," the news release said.
The following crew members were recognized at last week's Denton County Emergency Service District No. 1 board meeting for their life-saving efforts:
Lt. Mon Nguyen
Driver/Engineer Chad McInis
Firefighter Brent Barnfield
Firefighter/Paramedic Zachary Haas
Firefighter/Paramedic Jared Wells