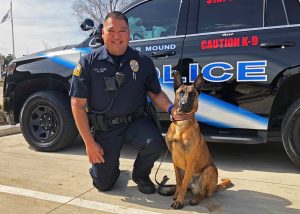 The town of Flower Mound shared a video on social media this week all about the police department's new K-9 officer, Ares.
The town announced in February the addition of Ares, a 2-year-old Belgian Malinois trained to sniff out illegal narcotics, such as marijuana, cocaine, methamphetamine and heroin, according to a Flower Mound Police Department news release. When Ares detects illegal narcotics, his body language changes and breathing will quicken. Once he gets as close as possible to the smell, he will alert his partner, Officer Rodney Adame, by sitting at the source and waiting until he is rewarded with his toy.
On Wednesday, the town put out a new video in its "At Your Service" series to introduce residents to Ares. Check it out below.
https://www.facebook.com/FlowerMoundPoliceDepartment/videos/957190584624098/?__xts__[0]=68.ARAaQd7HzAPYeTl1eKbP0fmB4iW3E3l-LBKXh20EhKRbwx-SnTp4VBR0IIxNpKXMDv_FKdlSxdClYw1D3wElDixcSxpKRg02_kx2dsttdzDEYL75GHBCzAO3bHRixykHOfaKlk35-WEtrdnsMqOg4_Y9tJKDM-ewMO3-rB8UY5fUg9H_226GVX6LNMA0hKH3R5EDRgW2EhtDcW60rMtW62ZnwSeUOVLXMjiPl5–ICEibrg8Tg7IJlPOWY73gRi3xrkVsN7s1hvym9IyFYoBQxmEyFat9bmBHSepbYxAbkV-tnuXX6j5J0dBjwuV3gZmL-S3NE8_TgUd3JIlPw6sLeLcc_3z4Zmy0eGDPA&__tn__=-R