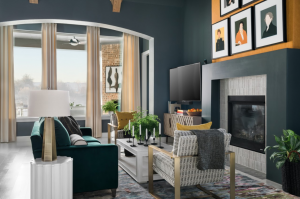 HGTV opened up its Smart Home 2019 to the media on Tuesday, showcasing the star of its $1.2 million giveaway.
Each year, HGTV puts a brand new smart home and its furnishings up for a sweepstakes. Last year, one winner was chosen from 95 million entries for a new smart home in South Carolina, according to a news release.
This year, the Smart Home to be given away is still undergoing finishing touches in the Fairway Ranch subdivision in west Roanoke. The house is built by Highland Homes, and the designer is Tiffany Brooks, winner of season 8 of HGTV Star.
Local Real Estate Brokerage Jay Marks Real Estate was the real estate team responsible for helping HGTV purchase the land in Fairway Ranch, and also established the relationship between HGTV and Highland Homes.
"It's been really hard keeping this a secret for a whole year," Marks said. "But to get to see the finished product is so exciting for our team and we were honored to get to play a role in HGTV Smart Home 2019 coming here to Denton County, Texas."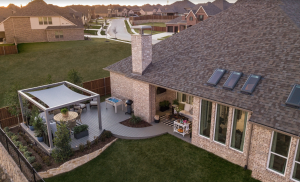 This modern, custom home is part of a grand prize package valued at more than $1.2 million that will be awarded this summer. In addition to winning the home itself and all the furnishings inside, the winner will also receive a 2020 Mercedes-Benz GLE and $100,000 courtesy of LendingTree.
Inside the approximately 3,400-square-foot single-story home are three bedrooms, three-and-a-half baths, a media room with 3D movie theatre, a home office, cozy library, playroom, laundry room with a dog washing station, an outdoor patio perfect for relaxation and entertaining, and the most spectacular master suite you will ever lay your eyes on.
Designer Tiffany Brooks was inspired by all of the unique surroundings Texas offers, calling the design aesthetic an Old-World retreat.
"I was obviously inspired by cattle ranching for all of the leather accents found throughout the home. You'll see glimpses of Metropolitan Dallas and the Design District when it comes to the more contemporary flair. And I also found a lot of churches around here, so I wanted to incorporate some gothic elements into the home as well," Brooks said.
Of course, being HGTV Smart Home 2019, there are dozens of smart technology features and clever design solutions found throughout the home.
The Master Bedroom, Master Closet and Master Bathroom are all equipped with the latest in smart home tech to include: Samsung's 55" Class The Frame Premium 4K UHD TV; a smart shower and toilet; a hidden safe from Willa-Hide; The SWASH®️ System built into the closet designed by California Closets®️ to keep clothes refreshed in just 10 minutes; The Automated WardrobeLift™ from StorageMotion Inc.; and a Compact TV Lift from Nexus 21 hidden in the bathroom vanity.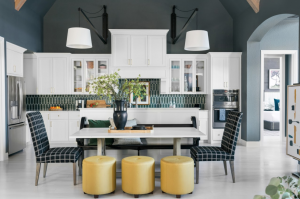 Aspiring golf pros everywhere will love the SkyTrak Golf Simulator located in the garage. It's located just in front of the above-ground storm shelter (from FamilySAFE) and will allow the winner to play championship golf courses from the comfort of their new home.
So, how can you enter to win HGTV Smart Home 2019?
During the sweepstakes period, which begins 9 a.m. ET on April 24 and runs through 5 p.m. ET on June 14, eligible viewers can enter twice per day at HGTV.com and sign up for daily email reminders. Fans can also visit HGTV's Facebook, Instagram, and Twitter pages for updates and new details (search #HGTVSmart).
Tune in for the premiere of DIY Behind the Build: HGTV Smart Home 2019 special chronicling the construction process on April 25 at 11 p.m. ET on DIY Network, along with the HGTV Smart Home 2019 Special, which premieres April 26 at 7 p.m. ET on HGTV.
To learn more about the giveaway, visit HGTV.com/Smart.