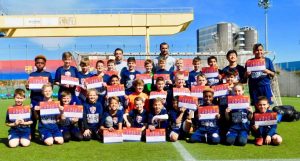 Thirty-two members of a local soccer club, FM Revolution, traveled to Barcelona for 10 days during their spring break to train with RCD Espanyol coaches and FB Barcelona Coaches. FM Revolution is based in Flower Mound and is led by Coach Will Hume.
During their time in Spain, the team played scrimmages with several local teams from Spain, according to a news release. At each game, the teams exchanged gifts to represent their hometowns. The players were also able to explore several different parts of Spain, learning more about the history and culture.
The team was able to tour the Camp Nou Stadium, home to FC Barcelona. Several families attended the FC Barcelona v.s. Lyon France championship game. At this game, the team and families had the opportunity to witness globally recognized players, like Lionel Messi, play.
The trip was supported by local businesses in the Flower Mound community through donations. Cross Timbers Animal Hospital made a donation that went directly towards the team's training jerseys. FM Revolution has already begun the process of planning their next trip to either Costa Rica or Scotland.