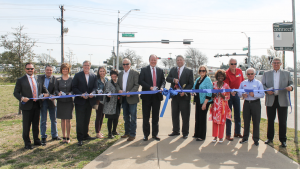 Denton County Commissioner Hugh Coleman hosted a ribbon cutting ceremony Friday to commemorate the completion of FM 2499, Section 5, with fellow members of the court, mayors from area cities and representatives of state and federal officials.
"The entire FM 2499 corridor represents the great partnership the county has with TxDOT, NCTCOG, federal agencies and surrounding municipalities," Coleman said. "Today, FM 2499 serves as a significant regional arterial from the DFW Airport to I-35E, providing a needed alternative and congestion relief to I-35 E as well as the FM 2181 corridor where significant growth is happening in this part of the county."
The FM 2499 Task Force began working on this project in 1984 under the leadership of former Highland Village Mayor Kay Stephens, according to a news release from Coleman's office. By 1991, Denton County assumed financial and leadership responsibilities with the passage of the county's first road bond program. FM 2499 would be included in two future bond programs in 1998 and 2004.
Denton County Judge Andy Eads praised the work and forethought of those elected officials of previous administrations who helped make FM 2499 a reality.
"Good roads add to quality of life and economic development as well as safety and improved mobility," Eads said. "Denton County has been committed to roadway infrastructure programs for nearly three decades."
TxDOT Area Engineer Tina Massey told the crowd that the project construction cost was about $40 million. Webber, LLC completed construction in November 2018.
"The project couldn't be possible without our partners," Massey said. "We had a positive relationship and were able to move things forward to get things built."
Other officials marking the completion of FM 2499, Section 5, included City of Denton Mayor Chris Watts and City of Corinth Mayor Bill Heideman. Representatives of U.S. Rep. Michael Burgess, State Senator Jane Nelson and State Rep. Lynn Stucky were also in attendance.