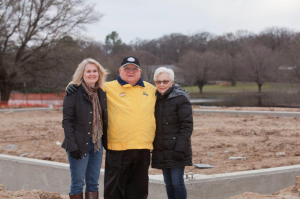 After three years and a personal health challenge later, the facility Humane Tomorrow co-founder Stacy Smith always envisioned is finally coming true.
The groundbreaking for the Glenn and Shirley Hulcher Community Center for Animals– named for the Hulcher family, who donated $2 million to help purchase and landscape the property and construct the first building– was held just before Christmas at the five-acre site on Hickory Hill Road, just west of Hilltop Road near Lantana in unincorporated Denton County. It is scheduled to open this summer.
Smith believes the center for pet adoption, rehabilitation and education will be unlike anything else in the state and maybe the country and could set a standard for the way animals are handled in the future.
"It's more than a shelter," she said. "If you look around over the last 10 years new animal shelters have gone up in every major community in North Texas. As soon as they're built they fill up and we still have the same problem."
Smith said the problem remains overpopulation, especially with dogs. But, thanks to partners like Animal Investigation Response—an organization that assists communities with animal abuse issues– things are heading in the right direction.
"We're euthanizing fewer animals," she said. "We have made progress, but we're still euthanizing animals for space. So our goal is not to just be an adoption organization, but to start solving some of the fundamental issues that are causing the problem."
That's where the new center will be able to help, with enough space to handle up to 100 animals for short-term stays. It also will help Humane Tomorrow to expand on its Love on Wheels relocation program where dogs are sent to New York where there's a dramatic shortage of adoptable animals.
"We want to do education," Smith said. "We want to do kids' camps. We want these kids to grow up and respect animals and not throw them away when they're inconvenient."
The new facility also will include dog obedience training and other seminars focused on rescuing and placing dogs and cats in new homes.
"That's why we're calling it a community center," Smith said. "We want people to gather there and learn and use each other as resources and help identify and solve some of these underlying problems."
Glenn Hulcher, chairman of Denton-based Hulcher Services Inc., wanted to do something to fulfill his wife's dream to provide a facility to help animals. They found out about the organization through their daughter, Jennifer, a long-time Humane Tomorrow volunteer who has fostered many dogs.
"I was impressed with the way they handled things and how they found new homes for the animals and protecting them," said Shirley Hulcher, who moved with her husband to Texas from central Illinois in the 1980s.
While Humane Tomorrow received the donation in 2016– and worked with an architect on design plans and talked to people about financing– things were delayed when Smith was diagnosed with breast cancer.
"That took me out a good part of the year and delayed us by quite a bit," she said. "Ever since, we've been working on a capital campaign to raise what's needed to build this entire thing, because $2 million sounds like lot of money, until you start spending it.
"It took a little longer than we hoped, as we all work fulltime jobs and still try to run the organization," added Smith, a technical writer for a mortgage company. "And, in our core organization we've had a lot of major life events over the last two years, so we've been struggling to keep going as a group. I feel like this year, just having the building started, there's a lot more momentum and energy."
In 1997, Smith and the late Maxine Morgan founded what was originally called the Flower Mound Humane Society in their homes. It moved to the facilities of Dr. O.J. Shaffer's Flower Mound Veterinary Hospital, where it continues to utilize a small office and other space. Shaffer, a Bartonville resident, is expected to move his practice to the new center eventually.
"What we have to do right now is finish Phase 1, so the building and outfitting will be operational and move everything from Dr. Shaffer's office to this place," Smith said.
The initial building will be one story with intake areas, room to house animals short-term, plus education and meeting space. Plans call for a separate two-story building adjacent to the initial structure. There also will be a memorial garden for owners to spread the ashes of their beloved pets, plus walking trails and nature areas around the pond for education.
Smith's goal is to raise another $3.4 million over the next three years to make those additions a reality.
Phase 2 will include a patio and larger rooms to conduct bigger events, plus a kitchen, real life adoption rooms and offices; while Phase 3 will extend the current building.
For now, Smith is glad to see the brick and mortar rising from the ground.
"It's going to be beautiful and versatile," Smith said. "It's going to be a place where people want to come and that's what we want it to be."
Learn more about Humane Tomorrow at www.fmhs.org.