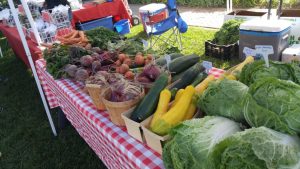 The Opening Day for the 10th anniversary of the Denton Community Market will be held on April 6 at Denton County Historical Park, 317 West Mulberry St.
Denton Community Market is a producer-only farmer's market and art market in downtown Denton featuring live music, kids' activities, local farms, local artists, food trucks, food vendors and more. It will be operating from 9 a.m. until 1 p.m. during regular hours, and 8 a.m. to 12 p.m. during the summer every Saturday from April 6 through Nov. 30, according to a news release.
"We have a variety of arts, crafts and makers with items including jewelry, décor, clothing, accessories, fine arts, bath and body products and more," said Rachel Weaver, market vendor coordinator. "We also have shaded seating areas for guests to enjoy food and live music."
The Market is also pet-friendly with pet products as well as water bowls and splash tubs for dogs. The market promotes local businesses and enriches the culture of Denton by creating a sense of place. All farmers are DCM-certified as local, producer-only and using sustainable farming practices.
"We expect this season to be the best yet with returning and new vendors as well as the 10th year anniversary special events and programs such as an exhibit on the history of the Market with monthly changing themes, an anniversary zine and special Market days,'' said Vicki Oppenheim, executive director of Denton Community Market. "We already have 100 vendors, including new farmers."
Denton Community Market's Opening Day will feature live music at the Gazebo by local musicians and will be live-streamed on DentonRadio.com: Platos Theory (9 a.m.), Copper Root (11 a.m.) and CityFolk (12 p.m.). The Opening Day Ceremony will be at 10 a.m.
For more information, call 940-268-4326.