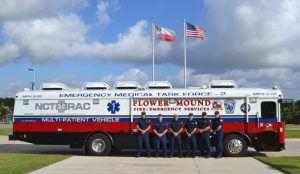 The Flower Mound Fire Department AMBUS will be participating in the city of Lewisville's upcoming full-scale emergency response exercise.
In an ongoing effort to improve emergency response, the city of Lewisville will conduct the emergency preparedness exercise on Friday in downtown Lewisville, according to a city news release. The real-time simulation will provide important hands-on experience to maximize the effectiveness of emergency response, multi-agency coordination and interoperability.
More than 200 people will participate in the simulated emergency exercise, which will take place from 8 a.m. until about noon outside Lewisville City Hall, 151 West Church St., and in Wayne Ferguson Plaza, 150 West Church St.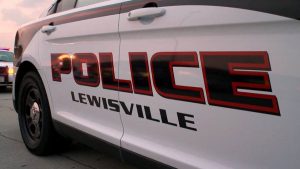 Residents and visitors in the downtown district might notice additional activity in the area during the exercise, such as:
Street closure on Church Street between Mill and Charles streets, and a part of Walters Street between Mill and Charles
Loud noises
Increased emergency response vehicles
Increased foot traffic
Mock victims wearing realistic theatrical make-up
City Hall will remain open during its regular Friday operating hours, 7:30 – 11:30 a.m. Public access to City Hall will be through the employee entrance on the east side of the building, facing Mill Street.
Parts of the exercise will be held at the emergency treatment areas of Medical City Lewisville but will not impact public access to the emergency room or the hospital.