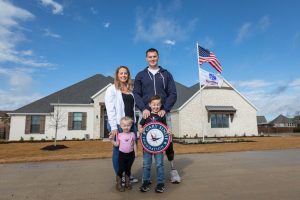 A U.S. Army captain wounded in Afghanistan received a new smart home in Copper Canyon on Thursday.
Jake Murphy was deployed in Kandahar, Afghanistan in 2011 when an explosive device detonated beneath him, taking his left foot and causing an anoxic brain injury that put him in a coma, according to a news release. He was evacuated to Germany, where his right leg was amputated and doctors informed his family that he may never wake up. After four weeks, he woke up from the coma, and later, his left leg was also amputated.
With his wife Lisa always by his side, Murphy has learned to walk with prosthetic legs. Their current home is not conducive to his needs and presents major obstacles. The home is not wheel-chair accessible and is challenging when trying to navigate through narrow doorways.
The Gary Sinise Foundation has provided the Murphy family with a specially-adapted smart home that will be easier for Jake Murphy to navigate and live in. The foundation's Restoring Independence Supporting Empowerment (RISE) program builds smart homes for the country's most severely wounded veterans and first responders.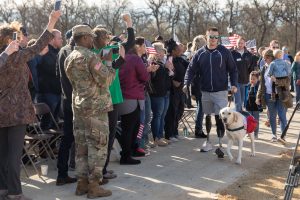 On Thursday, the foundation presented the Murphys with their new custom home in Copper Canyon. A letter written by Gary Sinise — the actor known for portraying Lt. Dan Taylor in the movie Forrest Gump — was read aloud at the event celebrating the Murphys' new home.
"Special individuals like Jake Murphy willingly place themselves in harm's way on dangerous battlefields around the world to make our lives safer here at home," Sinise wrote. "I personally believe that, as citizens who benefit from the service and sacrifice of these brave heroes, serving and honoring the needs of our military service members, and their families, before, during, and after the battle, is something we can all share. We can always do more to ensure our returning warriors are welcomed back into their communities with the resources to begin a new life."
Sinise also wrote that he looks forward to visiting Jake and his family, touring their new home and personally thanking them for their sacrifice.