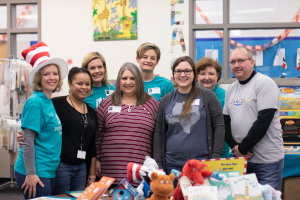 In celebration of Dr. Seuss Day, a local nonprofit held a free book fair at Lakeland Elementary in Lewisville, sponsored by Independent Bank.
All across the country, schools celebrated Dr. Suess' birthday earlier this month with a campaign to promote reading, called Read Across America. Book Drive for Kids joined the festivities at Lakeland Elementary School in Lewisville on March 1 to host a free book fair for all 800 students.
"At Book Drive for Kids, our mission is to create enthusiasm for reading and we do that by providing books that children can take home and call their own," said Michelle Cook, co-founder of Book Drive for Kids.
The nonprofit was founded by Flower Mound residents, Cook and Nicol Klingenstein, with the goal of creating a culture of literacy by providing books to disadvantaged children for independent reading. This school year, it will give away almost 7,000 books at free books fairs to economically disadvantaged children in Denton and Dallas counties.