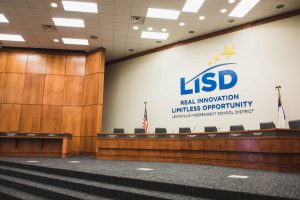 Lewisville ISD announced Friday its 10 finalists for Teacher of the Year, including one who teaches at a Highland Village school and one who teaches in Flower Mound.
Every year, the district chooses one elementary school teacher and one secondary school teacher as the Teachers of the Year. The district shared a video on social media Friday showing each 10 of its teachers learning that they have been named finalists.
Among the 10 finalists are two local teachers: Bre Manuel, a third grade teacher at Timber Creek Elementary School in Flower Mound, and Kelli Green, a science teacher at Briarhill Middle School in Highland Village.
The other finalists are:
Hebron Valley Elementary | Kelli Arriola
Indian Creek Elementary | Nancy Legg
Lillie J. Jackson Early Childhood Center | Gloria Gould
Polser Elementary | Angela Cross
Career Center East | Doug Emery
Huffines Middle School | Tamara Ostrander
Lewisville High School | Shari Mayes
LHS Killough | Valerie Nite
See the video below.
https://www.facebook.com/lewisvilleisd/videos/1199458046886200/?__xts__[0]=68.ARAv8iYnoSB680NNcBt9HWQ4wKJ-__a9XEf_ZCiLaBUBAkkjJkeQB3ik4oxXCUjaa8ektFB-kUdYYDWmzEBdUfgOO7V6S4WyyhiQkA8QmLiCRkk3h9IBSqbOfK7GqmufL6hXqrsARvLQ8U9DSFgKGbX0Q9s9a6OO8mJnlLbYm3hzbHwI-aqCVnxd4Bzn7b77hxJ1xtXPonfi6f7xE6L2vet3xcFyXK9imDls0WpUUqTTjlcs7QWdF5IsADgcpZ3e5wNHugNDr7kFNuFkt2EpICrJ_x4rL09mJkOT3jS9lpVMML3Cz03j4gFS_b99OBx4O-SCDvCAnMrQnyg-nTxLWr9CUrhZ4vKEli-75w&__tn__=-R