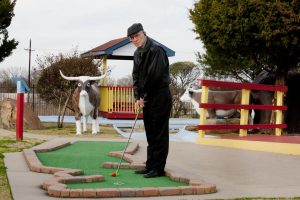 From working on his parents' West Texas farm, to serving the past 25 years as president of the trucking company his uncle and aunt started in his native city of Lubbock 80 years ago, family always has been an important part of Jody Heath's life.
So, while his regular job can consume him 24/7, his other gig as owner of Lewisville's Zone Action Park is all about family entertainment. It's been that way since 2002 when he opened Putt Putt Fun Center at the northwest corner of FM 407 and I-35E. In 2009, he replaced the two mini-golf courses and rebranded as Zone Action Park.
"Having something people would like to come to do for good, wholesome entertainment was our goal," said Heath, who was at Robert Heath Trucking, while earning his business administration degree at Texas Tech University.
Heath came up with the idea for such a business through the old Putt Putt Fun Center in his hometown of Lubbock. When he learned it was for sale, he checked it out, but backed off when he found out the deal was a land-lease only.
"I didn't want something where I couldn't own it all," he said. "Putt Putt said, 'you can go to Lewisville, Texas, or Arkansas, or somewhere else' and Lewisville was of interest to us. We came down here and looked for a spot and that's where we built. The demographics were real good, as far as children. It's still that way."
"He always told me he wanted to own a family entertainment facility," said General Manager Tiffany LaBreck. "His goal was to create a place like back in Lubbock, where the main thing was families enjoying themselves."
While Heath occasionally visited his property while living in Lubbock, it was six-years-ago, when Robert Heath Trucking expanded into Dallas, that he and wife, Michelle, began thinking of making their home here. The couple, who have been married for 46-years, moved to Flower Mound in 2014.
"We moved here because of the fun park being handy and I also can drive back and forth to work every day," said Heath.
His only child, daughter Audra, handles Zone Action Park's books back in Lubbock. He has two grandsons, one in the Marine Corps and the other at Texas Tech.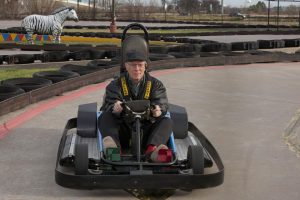 Ever since it opened, Zone Action Park has offered much more than just mini-golf. Go-karting is the most popular attraction, especially with two tracks – one for young children, the other for those at least 54-inches in height. There are bounce houses and six outdoor baseball and softball batting cages.
"We have baseball teams and softball teams taking advantage of the batting cages," LaBreck said. "We also have people who are older coming out just to see if they can still hit a ball. We used to have a group of guys in their 70s who came every week for many years. They would go in the 70-mile-an-hour cage and spend an hour or so batting."
Indoor is an arcade with a variety of approximately 50 games and accompanying redemption center. There also are five rooms that can entertain 12-24 people each for birthday and other parties. One room has an overall Disney theme, another features the Disney princesses, a third focuses on super heroes and space, the fourth on sports– including a large wall photo of the Texas Rangers' Globe Life Park– and the fifth is all about dinosaurs.
The snack bar features pizza, chicken wings, French fries, hot dogs, popcorn and a variety of sports drinks and soft drinks, pointing even more to the facility's family-friendly focus. And, with the entire property fenced in, parents have peace-of-mind knowing their children are safe while at the park.
"That's what we aim for, is families. Yes, we have people on date nights, but really, the place caters more to families than anything else," said LaBreck, who can't keep her daughters, ages two and six, away from Zone Action Park.
Beyond families, Zone Action Park hopes to entice area businesses looking for a place to conduct employee appreciation events.
"We have several dentists' offices and hotel chains and even Denco 911, the emergency response unit, having employee events for their families and friends," she said. "We're letting them know it's a very casual, family-friendly modest location. You don't have to leave the kids at home. They can bring them here and have a great time with everybody."
Zone Action Park also involves itself in a number of events that help various community individuals, groups and organizations.
"We host fundraiser events for many organizations, including: Winning the Fight; North Central Texas College; Your Home Team Cares; Keep Lewisville Beautiful; and more," LaBreck said. "We host spirit nights for Lewisville ISD schools, for them to raise money. We also donate birthday parties and family passes to schools and churches."
"We like to be able to help support the community and give people the opportunity to be able to do things they wouldn't otherwise be able to do," Heath added.
With spring break coming for area schools, Zone Action Park will be plenty busy dealing with the onslaught of youth and teenagers ready to enjoy some fun.
LaBreck has been in hiring-mode for a while, seeking to fill the 40-50 spots needed to help their guests have a great time. Most employees are high school and college students.
"It's the busiest week of the year, so we tend to hire and hire every week until spring break," she said. "Spring break is like the whole summer condensed into one week."
With amenities both inside and outside, Zone Action Park can remain open year-round. It adjusts its hours to meet the demand opening at 4 p.m. on weekdays during the school year and 10 a.m. on weekends and when school is out. It closes at 8 p.m. on school days and 10 p.m. all other times.
"Rain, snow, or shine we're definitely here," LaBreck said.
While Zone Action Park draws customers from as far away as Gainesville and Dallas, LaBreck and her staff hope to attract more people closer to home.
"We get a lot of people who live in Lewisville, right off 407 or the other side of I-35, who didn't realize we're here," she said. "Our goal is to reach people in our direct community."
To learn how everyone is better after experiencing The Zone, stop by or visit: thezoneactionparktexas.com