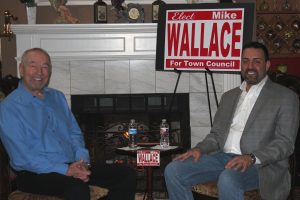 It's time for all good citizens to become aware of what's going on in local politics. We have a Flower Mound Town Council election coming up on May 4, providing us with another opportunity to participate in the government of our town.
There are two seats without incumbents and there are five people running. For Place 1 there are three candidates: Laile Stewart Neal, Laura Dillon and Jim Pierson. For Place 3, the two candidates are Mike Wallace and Ben Bumgarner.
In order for residents to hear directly from the candidates, each will have the opportunity to come over for an interview to answer questions about their background and their reasons for wanting to be on the Town Council.
The following is a short bio from Place 3 candidate Mike Wallace:
"Mike Wallace is a former Councilmember and current candidate for Flower Mound Town Council Place 3. He served on Council from 2009 – 2011 and P&Z from 2005 – 2009, two years as Vice Chair. Mike is a 14-year resident of Flower Mound with his wife Amy and daughter Bailey. He graduated from the University of North Texas and is a native Texan, born in Dallas.
The theme of his campaign is Protecting Flower Mound Quality. Mike wants to preserve the Master Plan and SMARTGrowth, keep property taxes low, support our Fire and Police professionals, and implement an Environmental Sustainability Plan."
During the interview, Mr. Wallace talks about what he calls the "3 T's" of his platform; Transportation, Transparency and Taxes. He was also asked his opinions on the 4 propositions that will be on the May 4th ballot.
Early voting begins April 22nd and Election Day is May 4th.