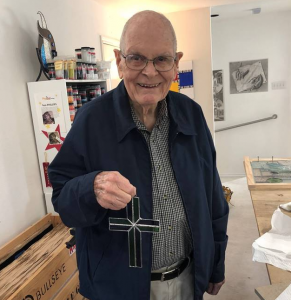 It's been over six years since Bill Palmer could make stained glass art, but this month he got the chance to pick up his hobby again.
Palmer, of Carrollton, had his own tools in his garage and used to make stained glass pieces of art for himself and his children. About six years ago, they moved into independent living in Carrollton, and then last year, Bill's wife, Pat, moved in to The Oaks Memory Care and Bill moved into The Oaks Assisted Living, both in Flower Mound.
Bill and his family knew when he left his home, his chance of ever being able to make another stained glass piece was slim. That is until a week ago, when Meghan Talley, the Activity Director at the Oaks, drove Bill to a home studio in Richardson to once again create a masterpiece with glass. When Talley first contacted the family about taking Bill to the studio, his family was both excited and worried. Bill's health had been failing quickly and they were unsure if he would make the date to create something in the studio. With the help of Nan Phillips, the studio owner, Talley was able to coordinate a time that worked for everyone. Bill created a cross from start to finish with a little help from Nan.
A week later, Bill's two daughters and son brought all the stained glass pieces he had made over the years. They were hung in the living room windows of The Oaks and showcased for his family and friends to see. Residents also enjoyed walking through the living room and seeing all the wonderful art work. Bill also has an eye for photography and his photos were showcased in a slide show above the fireplace in the living room.