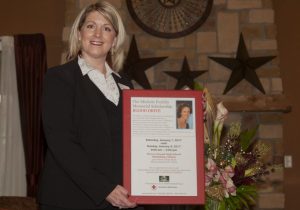 Before April 2014, Margo Strawbridge Brooks had never donated blood or even knew her own blood-type. When the mother of a Girl Scout in Brooks' troop needed blood, that situation changed.
"My daughter was in first grade when I became a troop leader," said Brooks, of Flower Mound. "Now, 12-years later, we still have a core group of seven girls– four of whom have completed their Gold Awards."
The troop's past five-year journey has not been a smooth one.
"My Girl Scout troop suddenly had a mom with a medical scare that opened our eyes to the need for blood when she was faced with severe aplastic anemia and needed lifesaving blood transfusions," said Brooks. "Thank the good Lord above for Chandra's bone marrow transplant success story."
Then, another scout's mother began a battle with breast cancer, which had a successful outcome.
Finally, a third major medical scare within the troop was when a mother, Michele Portillo, was diagnosed with an aggressive and rare form of liver cancer. Sadly, she lost her battle on Oct. 9, 2016. Her family was given more time with her due to a blood transfusion in her final weeks.
"Through all the medical troubles, my troop was hosting blood drives," said Brooks. "Our work has resulted in earning Red Cross scholarships for Flower Mound High School seniors and gift cards totaling $15,300."
Shortly, after Michele passed, Brooks felt the need to honor her memory.
"Michele was an amazing daughter, wife, mother, friend and always the first to raise her sleeve to help anyone in need," said Brooks. "With the permission of her family, we renamed the Red Cross High School Scholarship 'The Michele Portillo Memorial Scholarship.'"
As the leader of Girl Scout Troop 8869, Service Unit 408 — with the assistance of Flower Mound High School's National Honor Society and the softball team– Brooks has coordinated 20 blood drives for the American Red Cross.
Troop 8869's blood drives are also Red Cross Leaders Save Lives Blood Drives, which encourages community-minded 16- to 24-year-olds to host blood drives to help maintain the community's blood supply. Students who participate as blood drive coordinators can earn a gift card and are eligible to win a scholarship of up to $2,500 for higher education.
The first Portillo Memorial Scholarship recipient was Michele's senior daughter, Avery, in 2016. This year, her daughter, Alisa, is the 2019 recipient.
To date, some 1,664 pints of blood have been collected by Brooks and her troop (each pint potentially saves three lives), which equals approximately 4,992 people.
"I couldn't have success without Flower Mound's amazing willing donors," said Brooks. "An hour of one's time donating blood gives life to someone in the hospital."
All blood types are needed to ensure a reliable supply for patients. Anyone who is healthy– and older than age 16– can give blood. There is no upper-age limit on blood donation. A person can donate whole blood every 56-days, platelets every seven days and red blood cells every 112-days.
Although an estimated 38-percent of the U.S. population is eligible to donate blood at any given time, less than 10-percent actually do. The Red Cross needs to collect more than 13,000 donations every day to keep the blood supply ready and available to meet the needs of approximately 2,600 hospitals, clinics and cancer centers across the country.
When she isn't involved with Red Cross Blood Drives, Brooks owns and operates a beauty salon.
"I've been in the business 31-years," she said. "The last six-years my business has been inside Rosewood Assisted Living & Memory Care taking care of many senior citizens,"
"Now that you know why I do what I do, please consider calling or texting me at 281-229-0782 to sign up for one of our upcoming drives," said Brooks.