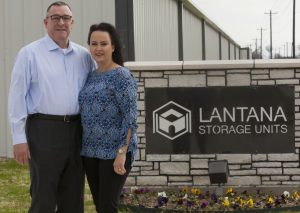 Until recently, Lantana and nearby residents– needing a place to store their personal belongings and vehicles in one location– had to travel farther away from their community.
That changed in January 2017 when Nora Morley and her husband, David, purchased the six-acre site located at the northeast corner of East Hickory Hill Road and Hilltop Road; formerly known to many as Texas Pet Bed & Breakfast.
While helping friends– who were forced to rent at three different storage facilities– while moving out of Lantana, the Morleys decided this was the right opportunity for a new storage facility in the area.
Lantana Storage Units opened its new facility this past November.  After demolishing the kennels, remodeling the main office and constructing 170-units and 80 parking spaces, they're ready to serve the area.
"We provide full-service storage," Nora said. "If you're preparing your house to sell, moving in from out of town, or across the neighborhood, you can store everything here. Our parking spaces are a perfect option to keep your vehicles, boats and RVs secure and near home."
The former Lantana residents, who have five children and five grandchildren, owned a dry-cleaning business in Flower Mound from 2006 to 2011. Living in Argyle since then, Nora was ready to get back into business.
"Our notion is there's an increasing demand for this type of business," agreed David. "This area is growing so much that it's underserved with storage facilities. The value of our facility is the range of storage, parking options, the proximity to Lantana and surrounding areas and the comfort of knowing that all our 24-hour access-units are individually protected with fire sprinklers, easy drive-up units, personalized entry/exit codes and video surveillance.
Lantana Storage Units recently became a U-Haul dealer; leasing trucks and vans to help people move items to and from the facility. They also offer merchandise deliveries to their tenants, so businesses can easily keep inventories close by, while lowering their overhead.
Future service options under consideration include a concierge service for Amazon or other similar companies.
Visit Lantana Storage Units at www.lantanastorageunits.com or call 940-213-4545.