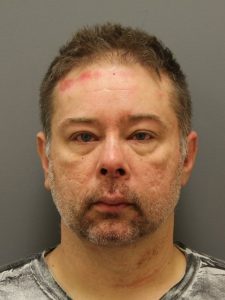 A Denton Police Department sergeant is recovering at home after a DWI suspect allegedly bit off part of his ear over the weekend.
Just after 11 p.m. Friday, an officer saw a vehicle weaving between lanes on I-35E northbound in south Denton and conducted a traffic stop, according to a DPD news release. The driver pulled over onto the shoulder near North Texas Boulevard, but he refused to get out of the vehicle for a DWI investigation.
Officers tried to remove the driver from the vehicle, but he punched one of them in the face and resisted being put in handcuffs. The officers and a police sergeant fell to the ground with the suspect during the struggle, and the suspect began to bite the sergeant's head and ear, eventually biting a portion of his ear off, according to a DPD news release. The officers were able to place the suspect into handcuffs after deploying a TASER.
The suspect, identified as 45-year-old Christopher Michael Rogers of Denton, was transported to a local hospital by ambulance, according to DPD, and during the trip he kicked a paramedic. After he was released from the hospital, Rogers was booked into the city jail on charges of DWI (second offense), resisting arrest, two counts of assault on a public servant (one for a police officer, the other for the paramedic) and one count of aggravated assault on a public servant.
The injured sergeant is recovering at home and is in good spirits, according to the news release.