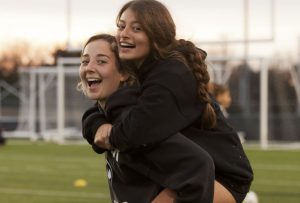 The 2013 Guyer girls' soccer team holds a special place in the pantheon of the Wildcats athletics program.
In April of that year, the Lady Wildcats defeated Highland Park by a score of 2–1 in the Class 4A State Championship to claim the only team state title in the school's history of girls' sports.
Fast forward six years to 2019 and a pair of sophomore forwards are doing what they can to help the Lady Wildcats make another run at a state tournament berth, plus scoring a lot of goals along the way.
Olivia Ramirez and Sami Gomez were both All-Region selections in 2018 in just their freshman seasons; and, through the first seven games of 2019, had combined for 16 goals and six assists.
Coach Mandy Hall said the duo makes for a powerful one-two punch on the front line and a big part of the reason why the Lady Wildcats were undefeated through the first seven contests of the season.
"Both Olivia and Sami bring a high level of talent and an incredible soccer brain to our team," Hall said. "They play quick and can see the field better than most. They are great offensive players and raise our level of play and intensity."
The Lady Wildcats were 6-0-1 through their first seven games of the season. Hall described Ramirez as someone who "has the ability to score in big games and when others can't seem to find the back of the net" and Gomez as, "a creative player with a quickness on the ball that makes her hard to defend."
Hall added that one of the biggest benefits to the Lady Wildcats team is the two girls' relationship.
"They are good friends," she said. "They are both goofy and like to have fun. Their friendship started way before they were on the field together, but you can see when they play how natural their chemistry is. They easily find one another and can play off each other very well.
"During most games, if the ball is out of bounds, or something, you can often find them standing by each other talking and laughing. I think their friendship helps them a lot on the field."
Ramirez, 16, finished last season with seven goals and two assists and was a first team All-District selection.
The Guyer sophomore said she tries to bring a "winning mindset and a positive attitude" and that she and her teammates are very much aware of the 2013 team's accomplishment.
Ramirez said her goal is for Guyer to reach the state championship at least one time before she is out of high school; and, added she feels confident her team can do that.
"I think all it will take is people willing to work hard and put all their effort in for the full 80-minutes," she said.
Ramirez, who plays for the Sting U16 club team– and whose favorite player is Alex Morgan– said there are a number of things that impress her about Gomez; particularly her footwork and ball handling.
"Sami can get through three or four people with a ball and still end up having it at her feet," Ramirez said. "As a person, she's fun to hang out with and you can go to her when you need an opinion on something because she will always be honest."
Gomez, 16, who finished last season with seven goals and six assists and was selected as the District's Newcomer of the Year, said her goal is also to make it to state. She said that soccer is not only a passion, but a family tradition.
"Soccer is all I've known," Gomez said. "My family is a soccer family and I have played for so long that it's second nature to me."
The Guyer sophomore plays Club ball for FC Dallas and said that Ramirez is the consummate teammate; who always sets a good example and apparently uses the right conditioner.
"She is hard-working and gives 100-percent effort all the time," Gomez said. "She's a really good friend and has pretty hair."
For Hall, having Gomez and Ramirez on her team for the next three seasons is quite a luxury; and, the Guyer coach said she looks forward to their continued development.
"They are both great assets to our program," Hall said. "I am thrilled to know they are only sophomores and they still have a lot of time left with us. It's been fun to watch them improve and develop in just one year, and I'm excited to see how far they go with more and more experience under their belt. We are able to build a lot of our offense around them for years to come."