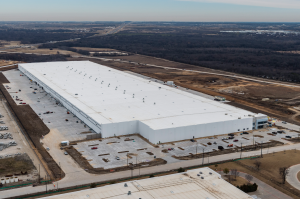 Stanley Black & Decker, the world's largest tools and storage company and leader in engineered fastening and security, announced this week a new 1.2-million-square-foot regional distribution center in the town of Northlake and Denton County.
The new facility will service central and southern states with an array of power tools and hand tools and will employ more than 300 workers when it opens next month, according to Stanley Black & Decker.
"We are excited Stanley Black & Decker decided to locate its new facility in Northlake," said Peter Dewing, mayor of Northlake. "We believe business is an integral part of the town. It is the town's responsibility to ensure we have a business-friendly environment. Stanley Black & Decker will bring additional jobs to our local community and have a lasting positive impact in the region. I am delighted to welcome them to Northlake."
The location — southwest of I-35W and Hwy 114 — offers one of the lowest tax structures in the region, according to a news release, and its close proximity to Fort Worth Alliance Airport, BNSF Railway's Alliance Intermodal Facility, the FedEx Express Southwest Regional Hub and the UPS and FedEx Ground Hubs make it an advantageous location for logistics operations.
"The expansion of our operations in Texas enables us to better serve our customers across the country with a centralized distribution hub for our world-renowned tools, manufactured at our 30 U.S. plants," said Jeff Ansell, executive vice president & president for Stanley Black & Decker's global tools & storage business. "Concurrently, this new distribution facility reinforces our long-standing commitment to manufacture in America as we continue to invest to deliver products for our customers with record speed."
Area residents who are interested in applying for open positions at Stanley Black & Decker can click here.