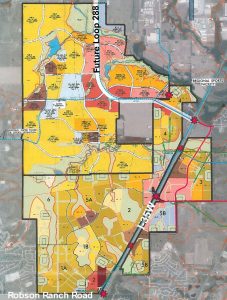 By Don Duff, Denton City Council, District 3
Cole & Hunter Ranch Development
Hunter Ranch is owned by Hillwood (Ross Perot Jr). Stratford Land and the Cole family had a proposal a year ago to develop Cole Ranch but it did not proceed. Now the two groups are proposing to develop both.
A first presentation was made to the Denton city council January 15, 2019. You can use the URL posted in my column at crosstimbersgazette.com to view the entire presentation by Cole & Hunter Ranch developers and the Denton staff.
Cole and Hunter are 3,000 acres each. At the bottom left of the map is Robson Ranch. At the center top you can see the Denton Municipal airport. Current population of Denton is about 135,000. At build out, about 61,000 additional residents would be added to the City of Denton.
Several things to note. Highway 288 will cut across the northeast side of the development to I-35W at Vintage Road (this addition of 288 will greatly reduce through traffic in Denton). When you drive north on 35W from Robson Ranch Road you will see two wooded hills to the west. The two hills and the trees will remain. In general, commercial buildings will be along 35W and 288. Multifamily units will be behind commercial and single family homes will be to the west.
Harvest (Hillwood) has added 1,600 homes in the last 3 years and have another 1,600 to go. With Hillwood involved and the use of Municipal Management Districts instead of Public Improvement District, this development will likely happen. Once homes start going in there should be enough rooftops for a grocery store to be built, probably along 35W.
Contact me at [email protected].