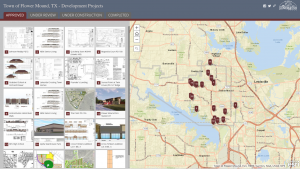 The town of Flower Mound introduced Tuesday its new interactive development map, which will quickly answer residents' questions about any construction project they see in town.
Using the interactive features, users can see projects that are approved, under review, under construction and completed for each location. There's also staff contact information on each project's information card, along with renderings and photographs when available for each project, according to the town of Flower Mound. Town staff will update the map as new projects are added or a project's status has changed.
Click here to see the interactive development map.