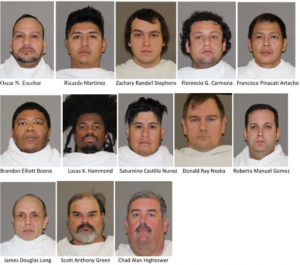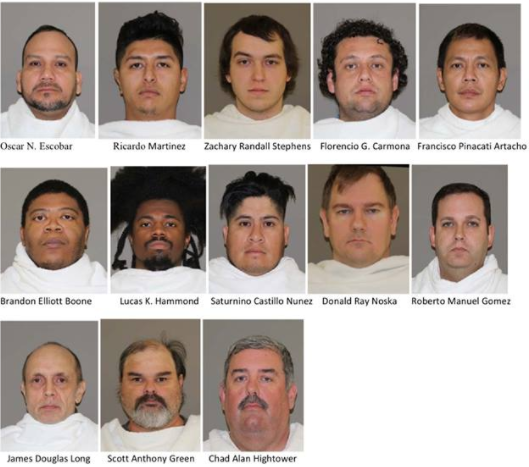 Last week, the Denton County Sheriff's Office conducted a Joint Online Solicitation Operation with several other law enforcement agencies to arrest over a dozen men seeking to have sex with a minor under the age of 17.
Officers conducted undercover online chats with personal advertisements, covert social media and other communication platforms to communicate with adults looking for sex with minors, according to a DCSO news release. Eleven men agreed to meet a minor for sex, and when they showed up to the agreed upon location, they were arrested after warrants were obtained. Two of them agreed to meet but didn't show, and they were also arrested after warrants were obtained. Investigations continue on seven more people.
The names of the men arrested are Oscar Escober, Ricardo Martinez, Zachary Stephens, Florencio Carmona, Francisco Artacho, Brandon Boone, Lucas Hammond, Donald Noska, Saturnino Nunez, Roberto Gomez, James Long, Scott Green and Chad Hightower. Each of them were charged with online solicitation of a minor, and some were charged with multiple counts. ICE placed immigration detainers on two of them. Seven of them live in Denton County, and the others live in other parts of North Texas.
"Once again our Joint Online Solicitation Operation has resulted in huge success. We surpassed arrests and cases from our July operation," said Sheriff Tracy Murphree. "The success of the operation also saddens me that we continue to have these online predators looking to victimize our kids. These predators cross all lines of race, age and social economic backgrounds. From the college administrator to the unemployed, all were looking to have sex with children. Parents should always be vigilant in monitoring their kids' social media activity."
DCSO carried out the operation with the Texas Department of Public Safety, Denton Police Department, Denton County District Attorney's Office, Tarrant County Sheriff's Office, Federal Bureau of Investigation, Fort Worth Police Department, Wylie Police Department, Homeland Security Investigations, Dallas Police Department, Dallas County Sheriff's Office and the Collin County District Attorney's Office.