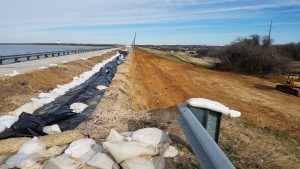 U.S. Army Corps of Engineers officials announced Wednesday that the road across the Grapevine Lake Dam will remain closed to the public indefinitely.
Fairway Drive across Grapevine Dam, also known as the Dam Road, has been closed to the public since August 2018 due to potentially hazardous conditions on the road observed during a routine inspection after heavy rainfall, according to a news release from the U.S. Army Corps of Engineers, Fort Worth District. Ongoing investigations of the road condition are being conducted to determine the level of repair needed for safe vehicular traffic use.
In August, the road was expected to be repaired and re-opened to the public by the end of 2018. In November, that expected completion time was pushed back to the spring. And now, there's been another delay.
"Currently, there is no estimated timeframe for reopening of Fairway Drive to the public," the USACE news release said.
One part of the repairs is the downstream embankment slope, which has directly impacted a segment of guardrail and road, according to the USACE. Unforeseen site conditions and weather have caused delays, and that part of the work is currently projected to be completed this summer.