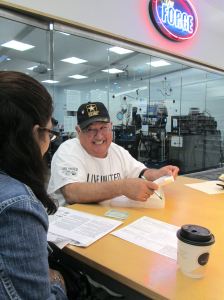 Nine Volunteer Income Tax Assistance sites have opened across Denton County to help residents with their tax returns.
United Way of Denton County volunteers are trained, certified and ready to help taxpayers earning up to $58,000 a year prepare, review and file their 2018 tax returns at nine sites across Denton County through the VITA program, according to a UDWC news release. The VITA program, created by the IRS and implemented by United Way of Denton County since 2008, helps thousands of hard-working households file their federal income taxes accurately, on time and for free.
Last year, United Way of Denton County volunteers helped connect 1,561 Denton County taxpayers to a record-breaking $2.1 million in tax refunds while saving them an estimated $423,000 in unnecessary filing fees, according to the news release.
The recently resolved government shutdown had little to no impact on preparations with the VITA sites opening on schedule this week. Denton County municipalities hosting sites include Corinth, Denton, Lake Dallas, Lewisville, Little Elm, Pilot Point and Sanger. Sites are open various dates and times through April 15.
For the latest information on site locations, dates, and times, as well as a checklist of items taxpayers need to bring with them for their tax preparation, click here.