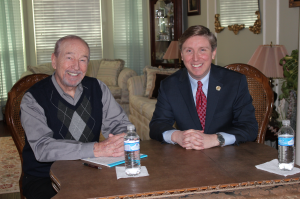 Tan Parker is our Texas State Representative here in House District 63, which covers parts of Denton and Tarrant Counties. Parker was first elected in 2006 and reelected every 2 years, including his reelection to his 7th term in 2018. Prior to being elected to the Texas House of Representatives, Parker was appointed by Texas Governor Rick Perry to chair the Texas Industrial Development Corporation, where he focused on job creation strategies and broad based economic development. A lifelong conservative, Parker first gained an interest in public service as a very young man while watching President Ronald Reagan's successful run for the White House in 1980.
Ever since then, Parker has been committed to the principles of a free market approach to managing our economy, smaller government, lower taxes, responsible spending, and providing a strong defense for our nation's security. In addition to his work establishing various Republican organizations as a young man, Parker served as a White House intern under President George H.W. Bush. Parker earned a Bachelor of Arts degree from the University of Dallas, and a Master's Degree from the London School of Economics. He resides in Flower Mound, Texas with his wife Beth and their daughters, Lauren and Ashley.
Protecting Texas' children has always been one of his most critical legislative priorities. Recently, he joined with TexProtects- Champions for Safe Children (www.texprotects.org) and other leaders to protect our precious youth and announced his filing of HB 822 that develops a statewide strategic plan to address causes and symptoms of adverse childhood experiences. The bill will put powerful preventative measures in place to better equip communities, families and children with the vital resources and resiliency that will ultimately build healthier futures and save taxpayer dollars.
Another recent bill, HB 805, filed by Parker will assist chronically ill Texans with the chance of a better quality of life by giving them the ability to access investigational medicines and treatments not yet approved by the FDA. "We must not let government bureaucracy impede hope and healing for those who deeply struggle for a chance to fully live," said Parker. "Debilitating chronic illness is a tragic reality for far too many Texans. As illnesses progress and options for treatment narrows, these patients face diminishing hope. In the spirit of medical freedom and innovation, I filed HB 805," he added.
During the video interview I asked Rep. Parker about those bills and about a recent visit to the White House to be part of a bill-signing ceremony with President Trump in the Oval Office. Parker was invited because of his legislative success in Texas to end the scourge of human trafficking. During the ceremony, President Trump signed S. 1862, the "Trafficking Victims Protection Reauthorization Act." The bi-partisan initiative will renew existing programs that make federal resources available to human trafficking survivors and establish new prevention, prosecution and collaboration initiatives to help bring traffickers to justice.
Rep. Parker's Flower Mound office is at 800 Parker Square Rd, Suite: 245. On the first Saturday of every month Rep. Parker hosts open office hours from 8am until all participants have had the opportunity to speak with him. Referred to as "First Saturday Coffees," the open office hours provide interested individuals with the opportunity to enjoy a cup of coffee and a pastry while visiting with Parker about issues important to them.