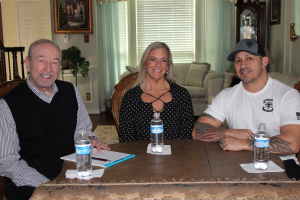 From time to time I come across personal stories of triumph from people in the area. One story comes to me from a woman named Vicki Carter who has lived through some of the most difficult challenges one can imagine. These days, Vicki is a personal trainer at Jesse James Fit 1001 Cross Timbers Rd., #1200 in Flower Mound. But, it took many years and a lot of courage, tenacity and faith to get her there. My sister-in-law, Lucy Weir, who works out regularly at JJ Fit, asked me to check out Vicki's story. The video interview will give encouragement to anyone who may be facing some of life's difficult challenges.
The following slightly edited biographical info was sent to me by Vicki, via Instagram:
"Wow… 18 years ago today, my life changed due to a drunk driver at 9:05 AM. It's hard to imagine the events that unfolded in that moment until now. I was told by the EMT that I wouldn't survive due to the amount of blood loss I had sustained and that if there is anything I wanted to tell my family, he would write it down. Then several days later I should've died again due to a clogged life-support system. Thanks to my mom's best friend, who noticed the signs because she worked for the state school, I was able to get help. Then two weeks later… I should've died from pulmonary embolisms that were covered all in my lungs, but thank God for a student Dr., that just happened to be in the room.
"He had just gone over all the signs, and this condition, in his class that week at school. The doctors in the room, treating me, had misdiagnosed me as having pneumonia, and they were putting me on a machine to force air into my lungs, which would have killed me. This student Dr. saved my life. Then, I was told I would never walk again and it was something I needed to except after many failed attempts at trying to fix my knees. So for the next 12 years I learned to accept it; lived with the pain and taking nothing for pain because I have little ones I had to raise.
"So in February 2012, I decided I wasn't going to let someone tell me that I would never walk again or that this was my life and I needed to accept it. So, I started my weight loss journey in hopes that I would find an orthopedic surgeon who would be willing to take on the massive challenge to help me. After 2 years of hard work on my weight loss, I had to find a plastic surgeon to help remove some excess skin, which turned out to be a blessing in disguise because it was his good friend that was able to help me. He said if I was determined to walk he was determined to make sure he would give me new knees so I could attempt to walk. Dr. Mollabashy told me it was not going to be easy and it would be an extreme challenge, but, he was very positive we could make this work. So, now 18 years later, I'm WALKING!!! I can't thank everybody enough who has been a part of my journey for all they have done for me."
Meeting Vicki is an example of why I enjoy doing these interviews. God bless her for being an inspiration to everyone who faces challenges in their lives.