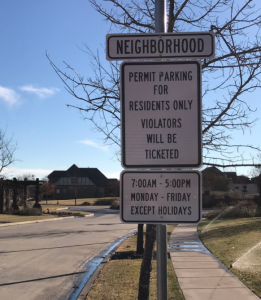 A parking ordinance has been approved for an Argyle subdivision in an effort that aims to stop Argyle High School students from parking in the streets instead of the school parking lot.
The ordinance was requested by residents of The Oaks of Argyle, a small neighborhood just south of Argyle High School, according to the town of Argyle. Town staff met with residents of The Oaks in November to discuss the issue of too many non-residents parking in the streets of the subdivision. The main reasons why AHS students park there, instead of the school parking lot, are believed to be because of their inability to obtain a parking permit from Argyle ISD (perhaps because of an expired registration or no car insurance), or the convenience of avoiding school traffic or that they don't want to be subject to a random drug screen or search of their vehicle, which is authorized with a school parking permit.
Most of the residents that met with the town staff said they wanted a parking ordinance that would not allow vehicles to be parked in the street during the day on school days, unless they have a parking sticker, which would only be available to The Oaks residents.
Last month, the Argyle Town Council approved the ordinance, which only allows residents to park on the streets from 7 a.m. to 5 p.m. Monday through Friday, except on holidays. Residents can apply for up to four parking permits per household to park on the street at any time. No permits are required to park in the driveway or garage. Residents can also request two guest parking permits per residence.
The signs, which cost an estimated $1,750, have been installed at the ends of each street in The Oaks.