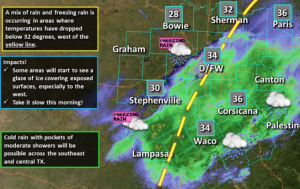 Local law enforcement agencies are urging drivers to use extra caution Wednesday morning because of freezing rain.
The National Weather Service has issued a Winter Weather Advisory for Denton County from early Wednesday morning through 6 a.m. Friday.
Cold and/or freezing rain is expected in the area throughout most of Wednesday. Local police departments, including Argyle and Denton, have posted on social media Wednesday morning that some bridges have started to freeze up and/or ice over. Sand trucks have been requested.
Trouble spots include Old Justin Bridge over I-35W in Argyle, multiple spots on Hwy 114, Hwy 380 and FM 156, Loop 288 and I-35E.
Meteorologists expect temperatures to rise above freezing during the day, which should help keep roads from freezing during the day.
The weather service forecasts the rain/freezing rain to transition to a rain-snow mix during the day on Thursday.