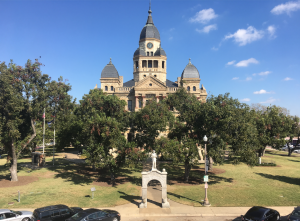 The historic museum in the Denton County Courthouse-on-the-Square has re-opened, more than a year after it was forced to close because of smoke damage.
On Dec. 26, 2017, a four-alarm fire broke out at the Downtown Mini Mall on the Denton Square, destroying that business and causing smoke damage to several other businesses and buildings in the Square, including the courthouse. Lots of smoke blew into the building and into the museum, causing soot damage to many of the museum's artifacts.
The Denton County Courthouse-on-the-Square was able to re-open for government business soon after, but the historic museum, however, was expected to take much longer, as much as a year.
The Denton County Office of History and Culture announced on social media that "we are so excited to finally re-open the doors" this week, just over one year after the fire.