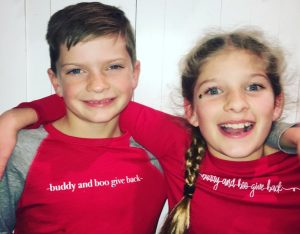 This is the second year "Buddy" (Colt Jones) and "Boo" (Meah Jones) from Flower Mound, have worked hard to bring joy to less fortunate kids for Christmas.
It started in 2017 when then 8-year-old Buddy asked his Mom for $10,000. Of course, his Mom (Jacqueline Jones) told him, "that is a lot of money, Buddy. Why do you need it?"
Buddy quickly answered by saying, "to give gifts to kids who don't have a Christmas."
This prompted his Mom to ask, "What can you guys do to help those kids who don't have a Christmas?"
Buddy and his then 9-year-old sister, Boo, put their heads together and– after whispering thoughts– blurted out, "We can sell Oatmeal Cookies!"
The family has a secret recipe that is more than 80-years-old and it's quite the favorite. One thing led to another; and so that's what they did.
In 2017, Buddy and Boo sold enough Oatmeal Cookies to buy gifts for every second-grade student in their Aunt's, who teaches at a local Title 1 school, class.  These students are less fortunate kids, some don't even have beds to sleep in at night, blankets to keep them warm or coats to wear to-and-from school; much less a Christmas.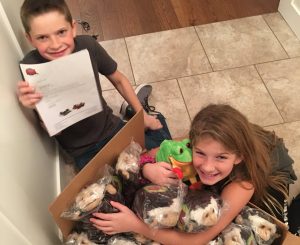 While Buddy and Boo could have unplugged this donation to sell in huge quantities– and adults could assist or do all the work– that wasn't the purpose. These two youngsters wanted to do all the hard work themselves. It gives them a deeper appreciation of what they accomplished with their own little hands. It completely overfills their hearts to see how they have impacted each child's life; when they hand the students the gift for which the brother-and-sister worked so hard.
Now it's 2018 and here they go again. This time not only did they make Oatmeal Cookies, but they expanded their sellable items to include homemade wooden blanket ladders and beautiful wooden Christmas trees.
Sales again were limited, so they were able to make everything themselves. They did invite some of their friends to help wrap all the gifts, which started the Buddy and Boo supporters' team.
On Dec. 14, they filled the hearts of not only one second-grade class, but the entire second-grade, consisting of 55 students. Every second grader received a Pop Out Pet (with help from Kimber Bennett, Founder & CEO), a book, a pair of socks and pencils nicely wrapped. And let's not forget each gift was topped with Candy Canes. Each child was fitted for a hooded fleece jacket– multiple colors and sizes– so no child went without.
Though Buddy and Boo receive pure fulfillment and joy in return and ask for nothing more; the story seems worthy of sharing. No matter the age, no matter how big or small, anyone can make a difference.  Buddy and Boo would love for your kids to wear red with them. It's truly heartfelt to see these two little youngsters impact children; one gift at a time– one life after another changed forever.