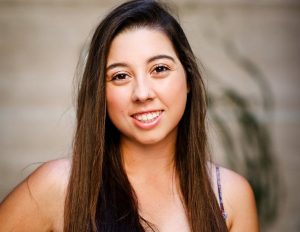 Isabella Washka has two great passions in life: helping others and the sport of golf.
The Guyer High School senior is a member of UNICEF, HOSA (Health Occupation Students of America) and the school's National Honor Society.
Washka was also a top player on the girls varsity golf team and said that the sport is where she learned one of the most important lessons of her young life.
"Golf is like life," Washka said. "You can't control golf. All you can do is do your best on that day."
Washka, 18, said her relationship with the sport of golf began eight years ago and has been an important part of her life ever since.
"I have been playing golf since I was 10, and each year my passion for the sport of golf has grown, because golf demands that you utilize both your mental and physical abilities," Washka said. "Even though the game of golf has its rough times, my passion has continued to push me through the slumps and allowed me to continue to grow as a golfer and a person."
In spite of having an 18-hole average of 72.4 and tournament scoring average of 75.6, Washka said there was a time when her abilities on the links were in question.
"When I first started with golf, no one really thought I would excel in this sport," Washka said. "After my first golf lesson when I was 10, my golf coach told my parents that I was a really sweet kid, but that maybe golf wouldn't be the best sport for me, because I had very little hand-eye coordination.
"Also, I didn't show a lot of athleticism, compared to other kids. But, I loved playing golf as a kid, so I continued to play and worked really hard on overcoming my limitations in order to be successful on the golf course."
The Lantana teen also completed an education and training internship her senior year at Guyer and graduated in the top 10-percent of her class.
Washka carried a 4.67 grade point average at Guyer High School and is a freshman at Morehead State University in in Morehead, Kentucky studying Biomedical Science.
She hopes one day to become a physical therapist.
Washka's Favorites
Favorite Subject: Science
Person that most inspires me: My sister
Favorite Movie: Selena
Favorite TV show: Grey's Anatomy
Last Book read: Pride and Prejudice
Favorite Singer: Khalid
Nominate your favorite high school student for this monthly feature brought to you by Texas Health Presbyterian Hospital Flower Mound by emailing [email protected].