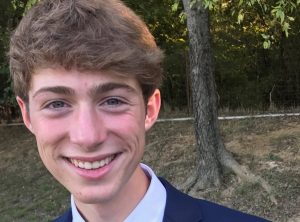 Braedon Lindsey has always had a meticulous mind.
Aspiring to become an Aerospace Engineer as a career appeals to the nature of the Liberty Christian senior.
"I would love to be an engineer when I grow up, because it combines my passion for math and science with the practicality and problem solving," Lindsey said.
The Flower Mound teen is a member of the Liberty Christian School Choir, played tennis for three years and competes on the TAPPS Academics team.
He said that one of the great things about attending LCS is that it has helped him to develop an understanding of what it means to be a part of something bigger than himself.
"I love the community at Liberty," Lindsey said. "I've attended Liberty since the third grade and have gotten to know many of my classmates. I have gotten to participate in things I love, with people I have grown close with. Additionally, Liberty offers a great atmosphere to grow spiritually, with many caring Christian leaders available for conversation."
Lindsey, 18, is a serious academician as well, carrying a 4.42 grade point average and is ranked seventh in his graduating class.
He said one of the biggest obstacles he has had to overcome during his high school years has been to "prioritize and organize my time."
He added that modern technology has helped him with that issue, particularly when it comes to his social life.
"The best part of being a teenager today is the ease of communication," Lindsey said. "I love to spend time with my friends and it's so easy to plan a last-minute get-together, whether to go eat or just hang out."
Lindsey, who also enjoys singing and playing piano, plans to attend either Stanford, Texas A&M or the University of Texas next fall.
Lindsey's Favorites
Favorite subject: Math (Calculus)
The person that most inspires you: My dad
Your favorite food: Chicken Wings
Favorite movie: The Princess Bride
Favorite TV show: The Office
The book you are currently reading or the last book you read: Beowulf
Favorite musical group or performer: Evgeny Kissin (Piano player)
Nominate your favorite high school student for this monthly feature brought to you by Texas Health Presbyterian Hospital Flower Mound by emailing [email protected].