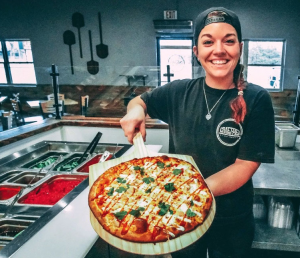 A new fast-casual pizza place is coming to Flower Mound's Lakeside DFW, replacing Paradise Bistro.
Realty Capital Management, LLC, master developer of Lakeside, announced Monday that Craft Pies Pizza Co. is coming to The Shops at Lakeside.
Craft Pies Pizza Co. is a fast-casual pizza concept that offers custom personal-size pizzas with fresh ingredients, salads, craft sodas and desserts. It is expected to open by the end of the second quarter of 2019.
"At Craft Pies we believe implementing a culture of servant leadership leaves everyone who encounters our company feeling valued and understood," said Brad Robinson, CEO of Craft Pies Pizza Co.
The Lakeside location will be Craft Pies Pizza Co.'s second restaurant — the first one is located in Pottsboro, near the Texas/Oklahoma border — and it will be taking over the space previously occupied by Paradise Bistro at 2450 Lakeside Parkway, Suite 100, Flower Mound. Paradise Bistro had been in The Shops at Lakeside since 2016 when the project was first getting off the ground.