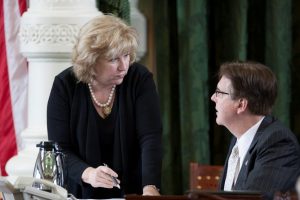 Texas State Senator Jane Nelson, R-Flower Mound, filed another package of bills Thursday ahead of the upcoming legislative session, according to a news release from her office.
"The health and safety of my constituents is of utmost importance to me," Nelson said. "This package of bills includes legislation to help victims of domestic violence escape dangerous situations, allow the City of Corinth to provide fire and emergency services, and promote healthy lifestyles in our community."
The next session begins Jan. 8 and concludes May 27. Lawmakers may file legislation through March 8.
The following is an overview of legislation pre-filed today by Senator Nelson:
Domestic Violence Lease Termination: SB 234 makes it easier for victims of domestic violence to move out of an unsafe environment. It expands the types of  documents a victim may use to break a lease to include a certification letter provided by a family violence center advocate, a licensed health care provider who examined the victim, or a mental health provider who examined the victim.  "Ending the cycle of domestic violence begins with giving victims the resources they need to get out of harm's way and start over," Senator Nelson said. "There is still work to be done to address of domestic violence in our state, but SB 234 will give victims more freedom to set themselves on a path to recovery."
Corinth Fire District: SB 235 allows the City of Corinth to improve its fire and emergency response system.  It authorizes the City to propose a fire control, prevention, and emergency medical services district to be approved by voters.  Upon approval by voters, the City may use a portion of its current sales tax revenue to fund the district. "With population growth in North Texas comes the need for additional emergency services," said Senator Nelson. "This bill gives Corinth voters the flexibility to use sales tax revenue to hire first responders, build fire stations, and invest in emergency communication equipment to protect and save lives."
Community Gardens: SB 236 leverages existing state resources to promote the availability of fresh, local produce in our communities.  It requires the General Land Office to create a plan to use unleased state land for community food gardens. "Far too many people in our state lack reliable access to nutritious food," Senator Nelson said. "My hope is that by increasing the number of community gardens, more Texans will have the nutrition they need to live long, healthy lives."
Occupational Licensing Privacy Assessment: SB 237 ensures that agencies are deliberate in deciding what personal information of their licensees they are posting to the internet by including a review of those procedures in Sunset review.  "I filed this bill in response to a constituent whose personal information was included on a public website related to her occupational license information.  In an age of heightened focus on cybersecurity, agencies must keenly review the information they are freely sharing online," Senator Nelson said.
Flotation Tanks: SB 238 establishes baseline safety requirements for flotation tank facilities by requiring them to register with the Department of State Health Services and require employees to hold first aid and CPR certifications. Earlier this year a woman drowned in Flower Mound after suffering cardiac arrest in a flotation tank; employees did not immediately call 911 or provide first aid. "Stronger oversight of these facilities is needed," Senator Nelson said. "At a minimum, employees should be trained in first aid and CPR so that they can swiftly respond in the event of an emergency."
Special District Transparency: SB 239 provides better access to open meetings for residents who live in special districts, including Municipal Utility Districts, Fresh Water Supply Districts, or Water Control and Improvement Districts. This bill requires special districts with  population of over 500 residents to hold board meetings within the districts' boundaries and make video and audio recordings of board meetings available online. "Special districts have the authority to levy property taxes and assessments on property and then budget that money much like other governmental entities," said Senator Nelson. "Residents of these districts should be given the same access to these meetings that they have to city, county, and state government."
F-35 License Plate: SB 240 requires TXDOT to create a license plate depicting the F-35 fighter jet along with its motto "The Sound of Freedom". This legislation honors both our military and Texas' aerospace industry. "The F-35 is a significant point of pride for Senate District 12 where it is manufactured," said Senator Nelson. "It is crucial in our country's pursuit to promote and defend freedom around the globe, and this legislation affirms Texas' position as a hub for the aerospace industry."
Obsolete Reports: SB 241 eliminates and streamlines agency reports that no longer serve their intended purpose or are redundant of other reporting requirements. "Through this bill we will ensure that state resources can be focused on current priorities rather than the production of obsolete reports at the expense of taxpayers," said Senator Nelson.