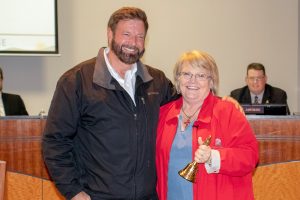 The city of Highland Village won Saturday's Red Kettle Mayoral Challenge, benefiting the Salvation Army DFW.
Last week, Lewisville Mayor Rudy Durham challenged Flower Mound's Steve Dixon and Highland Village's Charlotte Wilcox, and both accepted. For the challenge, town and city staff and officials rang the bell in front of local stores from 11 a.m. to 8 p.m. Saturday, hoping to collect the most donations in the Salvation Army's famous red kettle.
Flower Mound town staff and officials, including Dixon, volunteered in shifts in front of the Kroger grocery store at 2709 Cross Timbers Road. Highland Village staff and officials, including Wilcox, set up in front of the Walmart at 3060 Justin Road, and Lewisville staff and officials, including Durham, volunteered in front of the Sam's Club at 751 West Main St.
The total funds raised by each municipality were not immediately available, but the Salvation Army DFW did declare Wilcox and Highland Village the winner, presenting a bell-ringing trophy at this week's council meeting.