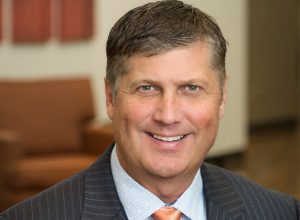 Did you know almost 100 residents serve on one of the Town's 14 active Boards and Commissions? Our many Boards and Commission members each have a role in helping the Town accomplish its goals and initiatives to keep our community moving forward.
These Boards and Commission members carve out time from their families, jobs, and other obligations to read and write hundreds of emails, examine documents and plans, and contemplate what is best for Flower Mound. Each of them hopes to leave a positive thumbprint on the community they love so much. This is often a thankless job but it's a great feeling passing a park, attending a ribbon cutting, or seeing a change in Flower Mound and knowing you were a small part of that.
I salute our outgoing Boards and Commission members for their hard work. The Town of Flower Mound thanks you for devoting your time and energy to Town matters, without ever receiving a paycheck in return.
Mike McCall, Planning and Zoning and PALS Board (now Parks Board), 11 years (combined)
Cynthia Paterson, Animal Services Board, 7 years
Doug Fulmer, Board of Adjustment, 4 years
Ann Handren, Parks Board, 4 years
Denise Johnson, Parks Board, 4 years
Brian Smiley, Transportation Commission, 2 years; Planning and Zoning, 1 year
Andy Allen, Transportation Commission, 3 years
Thomas Moore, Board of Adjustment, 2 years
Jessica Douglas, Cultural Arts Commission, 1 year
Michael Lamminen, Environmental Conservation Commission, 2 years
Joanna Crowell-Dreiling, LISD Liaison, 2 years
Micheal Kelly, Parks Board, 2 years
Firoz Vohra, Parks Board, 1 year
Heth Kendrick, Planning and Zoning Commission, 2 years
Robert Gunter, Transportation Commission, 3 years
Each Board and Commission has a unique role. Here is a quick look at just a few of our many groups that advise Town Council and Town staff:
The Animal Services Board generally serves in an advisory capacity to the Town Council in matters pertaining to the Animal Adoption Center complying with the laws set forth in the Texas Rabies Control Act.
The Cultural Arts Commission is charged with advising the Town Council and Town staff on policies, services and programs related to cultural arts programs, art in public places, and library services.
The Planning and Zoning Commission recommends or determines any matter relating to zoning, planning, or subdivision control as they may be specified or required under the Town's Comprehensive Zoning Ordinance or applicable laws of the State of Texas.
The Parks Board advises the Town Council and Town staff in policy matters regarding parks and recreation: goals, objectives and programs.
The purpose of the Transportation Commission is for members to advise Town Council and staff regarding changes to regulatory traffic control, prioritization of transportation improvements, changes to the thoroughfare plan, and recommend the short-term and long-term transportation needs of the Town.
For the complete list, visit flower-mound.com/85/Boards-and-Commissions.
Finally, I'd like to welcome our incoming Boards and Commission members. Thank you for volunteering to ensure Flower Mound continues to be a great place to call home. Your questions, emails, and decisions helps the Council make better decisions.
Animal Services Board:
Carol Stephens
Kelly Harrington
Board of Adjustment/Oil & Gas Board of Appeals:
Community Development Corporation:
Mehul Desai
Kristia Leyendecker
Michele Langenberg
Cultural Arts Commission: Thomas Williams
Environmental Conservation Commission: Kathryn Wells
Lewisville Independent School District Liaison: Asit Kini
Parks:
Alan Pichon
Daniel Cummings
Dale Olson
Jennifer Romaszewski
Planning & Zoning Commission:
Transportation Commission:
Adam Schiestel
Justin Thomason
If you or your family knows one of these people, please shake their hand and thank them. They could be spending their time doing many other things, but they are choosing to serve Flower Mound.