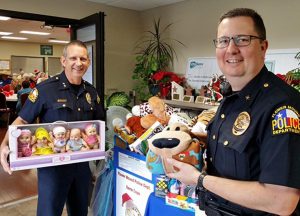 The Flower Mound Police Department is requesting more donations of toys for kids younger than 12 years old for its Santa Cops program.
The department and the Flower Mound Citizen's Police Academy Alumni Association organize the town's annual Santa Cops toy drive, which collects donations and gifts and distributes them at Christmas to local children who might otherwise not receive a gift from Santa.
The department said Monday on social media that "the program is still in need of toys for children under 12 years old." Donations are being accepted through Wednesday.
To make a donation in the form of a new unwrapped toy, click here to find a list of donation drop-box locations. To donate a gift card or a financial contribution to Santa Cops, drop them off at the Flower Mound Police Department, 4150 Kirkpatrick Lane.
To refer a family for the program, complete the form found here and submit it in person at the Police Department or by email to [email protected] by Dec. 5.
https://www.facebook.com/FlowerMoundPoliceDepartment/videos/504472816739753/?__xts__[0]=68.ARAGABdttG7YvIGffZ0VftLGXv4zcsH2J775L1-c4npSnweOEVJi2ApooW1LkIHJGymszIIUsHOo4fhrJx_-DtybDIXXfEKMqKc5tKkz2krWGdQ1I8KCtNadcStiYYKasBpTeIoRukLA9FlfMYK0ecdco387xr0333HckLMgwt14ur9VF1EyJnWAFUKHX7lHv1rFJ3aApOi-Fr4yVmQpEHYViD7tqRznZfuETApWRAGHMDkNFx25_Rxjn4qy1v0mwmqQqcdGazKBOt4mYpeQCsmg9qh066SCYU1H3JaYhoMM83q23ZWskAQHnrGV5d5ZKXfSk_qfkg-CDq6R9X-DX_ZqeJ6il4zwot8&__tn__=-R